In the summer of 2007, Beijing-based Canadian writer Lisa Carducci visited Xinjiang Uygur Autonomous Region for the third time. Within half a year, These Wonderful People of Xinjiang (Foreign Languages Press), based on her trips, was published in English and French.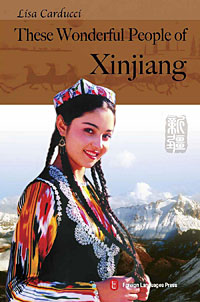 "What I am hoping to do with this book is present a real Xinjiang to foreigners who have not been there yet," said Carducci to Beijing Review.
One of the hottest and driest places in the country, Xinjiang covers a sixth of China's territory and contains 55 of the 56 Chinese ethnic groups except for the Jino. It is rich with ethnic traditions, breathtaking landscapes, arts and crafts, fruit and several intriguing customs that the author shares with the readers.
Unfortunately, stereotypes about Xinjiang prevail in the West, says Carducci, who has lived in Beijing for almost two decades.
"When foreigners, Western people in particular, talk about Xinjiang, they think it's a remote and poor place, where women are oppressed by male chauvinism; they think it's a hotbed of terrorism, ethnic tensions, and thieves alike..." observed Carducci. "Their impressions are not true. I've spent almost 20 years attempting to eliminate these fabricated facts; I'd like to try different ways of presenting reality whenever I write books or articles."
Carducci explores the region by interviewing over 20 people representing the varied aspects of Xinjiang. Her interviewees come from 14 different ethnic groups, and their professions range from restaurant owner, bow and arrow maker, melon expert to gynecologist, Imam, and so forth.
Carducci's peculiar vision of Chinese reality leaves unforgettable impressions, thanks to her stay in Beijing, first as a teacher in a university, then a consultant with China Central Television (CCTV), and a translator, columnist and editor with Beijing Review. She speaks Chinese fluently.
"I've been to all parts of China, with a considerable knowledge of each place; I would not able to finish such a book if I were a newbie here," she said. "My previous travels to Xinjiang, in 1993 and 2005 respectively, helped me to better understand the place and the people; I know clearly where I should ask questions and how to keep to the point.
"I'm a writer, not a journalist. The difference between the two, in my opinion, is that as a writer I can see what's inside interviewees, so they can have their say without any presumptions or intended conclusions. By the same token, this book is a writer's vision, not a journalist one. I have my own way of interviewing people, which seems far different from those of Chinese journalists and TV reporters."
Although most interviewees in this book are relatively "high-profile" ordinary people who have shown up in CCTV features, they are often amazed by the aspects she considers. "I don't care about what other reporters have covered. I prefer to listen to their real life and stories. Everyone is unique," she said.
For instance, while visiting an Imam's family, she noticed that his nine-year-old daughter painted her eyebrows, drawing a black line joining both arches. This is a major criterion of beauty among Uygur women, but perhaps not so in the other ethnic groups. The author took a picture of the girl's face as an illustration. Such a detail, however, is rarely reported by Chinese journalists, who might consider it trivial or irrelevant.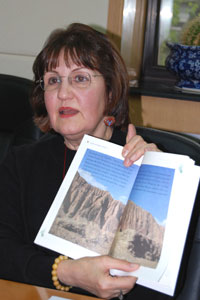 During her 5-week trip, the author traveled "from the most northern point, which is the Friendship Peak on the Sino-Russian border, to the most western, on the Sino-Kirgiz border, and then to the most eastern and most southern cities, Hami and Hotan."
One can only imagine the difficulties that Carducci encountered while traversing the "region of extremes in China," since she is the first foreign writer to dwell on the subject--telling stories about the real Xinjiang through ordinary people's daily lives.
"Writing is no big deal actually; the biggest challenge to me is the interpretation and translation work," she declares. "It is wrong to take it for granted that all the Chinese can speak Chinese [putonghua]. A lot of my interviewees either speak Chinese with accents or only speak their own ethnic languages, and sometimes even the interpreters can't follow what the interviewees have said.
"I have to listen to the recorder over and over again, and often crosscheck facts with the local government to ensure that what I've written is true."
In her conclusion, she writes that the Uygur always took her as one of them and talked to her in their language. "At long last, I felt as though I was part of the Chinese people!"
"Although I've finished These Wonderful People of Xinjiang in English and French, my pursuit never ends,"she wrote in a statement last December. "I had a dream--conveying China to the world--as early as 17 years ago, when I first settled here. I will continue to do it till the end as a bridge between the East and the West."
And her next project?
"I've just returned from a 35-day trip to Ningxia Hui Autonomous Region. The effort to curb desert expansion there is impressive, and therefore can be seen as a miracle," she said. "My interviewees there were almost double the number of those in Xinjiang. These Wonderful People of Ningxia will be released in August this year, in English and French.
"It will be part of a celebration gift for the 50th anniversary of the founding of Ningxia Hui Autonomous Region."
According to her schedule, Carducci's next destinations will be Guangxi Zhuang Autonomous Region later this year, Inner Mongolia Autonomous Region and Tibet Autonomous Region.
"Not a few people accuse me as an 'unconditional defender of China'. What I want to say is that when I defend China, it's because I think China is right. And I believe that those who accuse China do it because they don't know. I may make mistakes, but my mistakes are sincere," said Carducci in a recent China Daily interview.
"This is my country. I'm at home here. If I had to leave China, for me it would be the end of the world. I would die," she sighs.
Profile of Lisa Carducci
After a teaching career in Canada, where she was born, Lisa Carducci discovered China as the most favorable place for her writing to blossom. Author of over 40 books and 2,000 articles, she aims to improve, year after year, her knowledge of the diverse features that comprise Chinese culture.
In 2001 she was granted the Friendship Award, the highest honor the Chinese government bestows on foreigners who have made great contributions to the country.
In March 2005, she became one of the first 12 foreigners to obtain the Beijing Permanent Residence Card, also known as China's green card.