Liu Zhenyun is one of the most misunderstood novelists in China. Each time his latest novel is released, he is buried with boos and catcalls. "But later, I'm bombarded with cheers, even from the same bunch of folks," he says.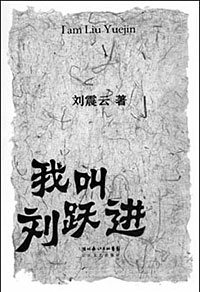 "Perhaps my attempt to try new tricks fails to impress my readers and critics. Or, it is just that they are getting used to my style and unwilling to watch me taking risks and making a fool of myself," explains Liu during a book launch for his latest novel I Am Liu Yuejin (Wo Jiao Liu Yuejin).
Nonetheless, the 49-year-old writer, who often crosses over to movie script writing and even acting, never yields to criticisms.
"I always move on amidst heaps of criticism over my 25-year writing career. But when a new novel is completed, I have to turn to a new direction since I am no longer in the same mood. I must turn a deaf ear to my critics when I trek on a new path," he says.
Hailed by critics as a "Neo-realist writer", Liu refuses to be pigeonholed and claims I Am Liu Yuejin, his fourth full-length work of the genre, marks "a new turn".
Liu's new novel hit the bookshelf early this month, with at least 200,000 first-edition copies printed, according to Jin Lihong, the publisher of the book with the Changjiang Literature and Arts Publishing Group. Jin anticipates a good harvest from this "insightful yet dark-humored novel".
Liu says his story is a subversive parable about a sheep that eats wolves.
It is how the weak and downtrodden unexpectedly get an upper hand. "Only in my novels I can make the impossible possible. "
The plot involves a countryside chef searching for his lost bag and dealing with different bands of deadly killers.
"Sheep and wolves are metaphors I make use of to express a new angle we look at today's world," he says.
Liu believes the world is full of uncertainties and endless accidents and coincidences. "The world is out of the control of human kind. In addition, that is where drama comes from and I want to explore in my novels."
His protagonist Liu Yuejin "exposes the absurd, irrational logic of some people in today's world".
Liu's characters are true to life, critics say. "No matter if they are a he or she, a nobody, a superrich, or a high ranking official, each has his or her weaknesses, worries, fears, hopes and whimsical dreams," says Yang Xuemei, an editor with a publishing house in Beijing.
Chef Liu is a mild-natured migrant worker who is tortured by his broken marriage. The chef tries every means to safeguard his own interests. He is smart but powerless.
In his search for his lost bag of money, Liu Yuejin breaks promises, playing a deadly game with dangerous enemies, including a real estate tycoon, corrupted officials, the mafia, vendors, prostitutes, private eyes, and subcontractors.