In the preface to his latest comic book Absolute Children (Juedui Xiaohai), Taiwan cartoonist Zhu Deyong says that he had previously never considered doing a book about children because he "hated children".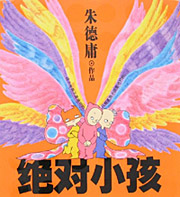 After his son was born, he hid in his study for three days, too upset to utter a word. His wife Feng Manlun sighed and said: "Well, I'll raise this child".
But Zhu's son turned out to be his good friend and changed him. When the boy turned 9, Zhu decided to write his first book about children, Absolute Children, to help people rediscover the innocence of their childhood.
"I hope the book can bridge children's world and adults' world," Zhu told Shenzhen readers when signing copies of Absolute Children at Shenzhen Book City on Saturday.
Shenzhen was the last leg of Zhu's national promotional tour for Absolute Children. In every city he visited, the 41-year-old cartoonist was received like a star.
The new book, which hit the mainland market about a month ago, is welcome news for fans of Zhu, whose most popular book, Pink Ladies, was adapted to TV several years ago.
Absolute Children is also slated to be turned into an animation series soon, Zhu said.
Hundreds of young parents and children waited in line for a signed copy of the brightly colored comic book Saturday, clear evidence of the popularity of the Taiwan cartoonist here.
Zhu, who majored in film at college but become a professional cartoonist at the age of 29, is the best-known Chinese cartoonist. His hilariously entertaining comic books have been read by thousands of millions of people all around the world.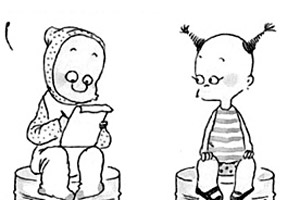 His most popular series include Family Warfare (Shuang Xiang Pao),"which examines the forever-raging battle between men and women; Pink Ladies (Fen Hong Se Nv Lang), which depicts the lives of four women who share the same apartment in Taipei, and The Hipsters (Cu Liu Zu), which describes single life in Taipei from the perspectives of both men and women.
Absolute Children is aimed at "children who don't want to grow up" and adults who "want to return childhood," said Zhu, who insists that "childhood is at the heart of everybody".
Zhu's Absolute Children features six fun-loving children who are troublesome in the eyes of their parents and teachers. One of the children is based on Zhu's son, Zhu Zhongwei.
The series explores the innocent world of children, the absurdity of adults from the children's perspective, as well as the constant battles between children and parents.
Zhu Deyong's humor and philosophical observations make it as hilarious and thought-provoking as any of his previous best-sellers.
Zhu said he rated his new book, on which he spent five years, as the "funniest book" he had ever written.
Like his other books, Absolute Children has four images in each page, which together tell a self-contained story, while following a loose plot.
Compared with his earlier comics, Absolute Children has more fun than satire. If there is satire, it's about adults.
The children's innocence often mirrors the absurdity of the adults.
Zhu said the book was based on memories of his childhood and his son.
His own childhood memories, however, are far from happy. He said he was an "egoist" as a child, who would not do anything he disliked or make friends with anyone he disliked.
"I was a combination of Pitou, Wumao, and Taoyan," said Zhu, referring to the three naughty boys in Absolute Children.
In a society where children are expected to follow every word of their parents, children such as Zhu are certain to be regarded as troublesome. Zhu said his childhood was an endless struggle with parents and teachers.
While raising his own child, however, Zhu finally discovered that he hated children simply because he was unwilling to recall his own childhood, and the compromises he made with adults.
He said he decided not to let his son follow the same path. He never forces his son to attend extra classes, and plays with him often.
His son has not faced the difficulties he himself experienced, and even managed to enter a well-known high school.
While playing with his son, Zhu said he experienced a happy childhood, which inspired him to write Absolute Children.
"My son solved my psychological problems," said Zhu.
(Shenzhen Daily via china.org.cn August 1, 2007)