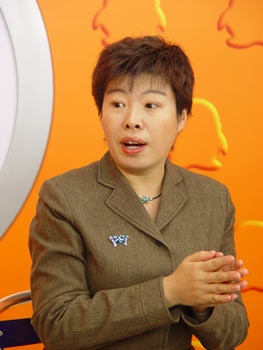 Yu Dan, a 41-year-old veteran media scholar at Beijing Normal University, is described as "a mix of unmixable elements" by her friends.
As the dean of the TV and Cinema Studies Department of the School of Media and Arts of the university, Yu is better known by TV and movie professionals as an experienced media strategist and consultant for a roster of mass media groups including China Central Television (CCTV) and Rupert Murdoch's News Corp (China).
But Yu calls herself "a big fan of pop music idols" such as Jay Chow and the Nanquan Mama, an enthusiast of Chinese history and classic literature and a good performer of the Kunqu Opera.
On top of that, she is unofficially recognized as "the chieftain of the fun-seeking club of the School of Media and Arts at Beijing Normal University."
She still manages to find time for suburban hiking activities with her students despite her "nerving-stretching schedule."
Previously a behind-the-scenes media expert, she has now attracted nationwide attention for her popular televised lecture series about the Analects of Confucius.
During the National Day holidays last month, for the first time, she appeared on the Lecture Room a popular but controversial programme aired on channel 10 of CCTV.
Encouraged by the warm welcome of TV audiences and a large number of netizens who have given bountiful kudos to Yu's "enlightening lectures" in their blogs and online forums, Wan Wei, producer of the Lecture Room, decided to rerun Yu's well-received lectures over the past week.
At a book signing and book launch ceremony yesterday in western Beijing, Yu stunned the media and the public with a new book about her readings of the Confucian bible, released in a run of more than 600,000 copies the largest number of copies run on the Chinese mainland in recent years.
Reinterpreting the classics
The new book includes both the content of the TV lectures and the original text from the Analects of Confucius.
The book is another item on her long list of academic papers and books about movies, TV programming, TV station operations, news anchors, TV new reporting and media competition strategies.
"My book is far from a highly academic publication with precise word-for-word explanations of the Confucian classic. It is only a collection of my personal readings of the ancient sage's thoughts which I have accumulated over decades," Yu told China Daily.
"I am not an expert in Confucian studies, but rather, a media scholar. It is only that, as a great fan of Chinese classics such as the Book of Songs, the Analects of Confucius and Zhuang Tzu, I am willing to share with people my understanding of these centuries-old pearls of wisdom."
Yu's televised lectures won the hearts of mass audiences who uploaded the video clips and quotes from her lectures on their blogs and online forums.
Wang Yiwang, a Chinese netizen who has a blog on www.baidu.com, posted: "What professor Yu said in her TV lectures is just like a remedy for our soul... Many people today are losing their way spiritually when confronted with a rapidly changing world... From her talks, I have learned to look at my life and the status quo in a new perspective."
For another netizen posting his blog on www.mediachina.net: "Yu's reinterpretation of the more than 1,500-year-old classic drags me away from online magic-realism novels during the National Day holidays.