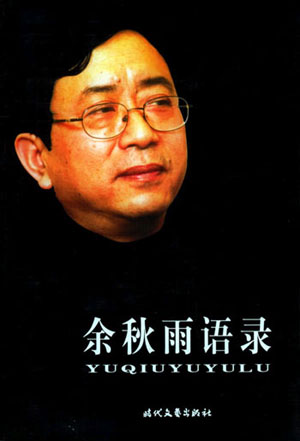 With a broad readership at home and abroad, Yu Qiuyu is perhaps one of the best-known Chinese cultural and literary figures in China (including Taiwan and Hong Kong) and Chinese communities in foreign countries. His cultural explorations linking China with the rest of the world and his bold and direct criticisms of some culture phenomena sometimes make him the favorite of some readers and the disdain of others.
China, very few book lovers don't know the name of Yu Qiuyu. His collection of essays, including Stressful Cultural Journeying, Notes Made While Living in the Hills and Mountain Home Journal, are all bestsellers. These prose works have tugged at the heartstrings of many Chinese intellectuals.
Yu Qiuyu was born in a country village in eastern China's Zhejiang province in 1946.When he was only seven years old, he started helping illiterate farmers write letters and keep accounts. This prepared him for his writing career at an early age--experiences that he is grateful for.
"Judging from the outside, I didn't have a lot of spare time after school. However, these activities helped me to learn a lot about my hometown and my responsibilities toward it. I should thank my mother for letting me know culture is also a kind of obligation and responsibility from which we should not ask for rewards. She also helped me understand the misery and distress our land has suffered, enabling me to work, speak, think and go forward with inspiration from the land. She did all this without even knowing it."
After graduating from the literature department of Shanghai Theater Academy, he became interested in Chinese and world culture research. In 1968, he went to recuperate in a mountain area in Zhejiang province due to bad health. Over the next several years, he stayed at a library there and read through all of the Chinese classics. After returning to Shanghai, he read all the books about foreign ideologists and philosophers he could buy, borrow or find. Thanks to this accumulation of global thoughts, Yu Qiuyu later published many works on drama and art, including Drama Ideology History and Chinese Drama History. In 1985, Yu Qiuyu became the youngest art professor in Chinese history, causing a great stir at the time. Later, he became the head of Shanghai Theater Academy.
Although everything went smoothly in his administrative career, Yu Qiuyu says he could not suppress his inner calling to concentrate on Chinese culture. He thinks China is rich in cultural legacy, but that very legacy is gradually disappearing. He ultimately resigned and started to embark on a difficult journey looking for disappearing civilizations in old haunts in China and the rest of the world.
"I am happy with my decision now. My choice was to find the relics and remains of past Chinese glory and put my own feelings and emotions into my books so that all Chinese around the world would be able to feel them just like I did. I also wanted to visit all of these types of relics in the world and note my impressions about them. I never planned where or when I would stop at that time. I only wanted to go on visiting cultural scenic spots and see them with my own eyes."
Yu Qiuyu visited most of the cultural relics in the country, reaching Dunhuang to the northwest and Guangzhou to the southeast. His ensuing publication, Stressful Cultural Journeying, became a huge hit immediately when it was released in 1992. The book even became a cultural popularization book for the Chinese people. People found something new in his book because he treated Chinese culture from a novel angle. His reflections on Chinese culture and his emotional writing style even aroused the popularization of a new literary style called "cultural meditation essay."