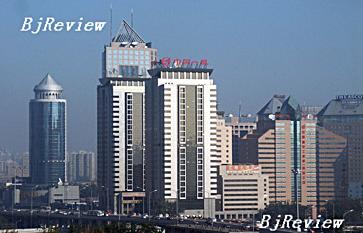 The Chinese real estate market experienced abnormal and unhealthy price hikes in 2006. During the first five months last year, average sales prices of commercial houses nationwide were up 8.9 percent, according to the National Bureau of Statistics
In order to crack down upon speculation from foreign investors, the Opinions on Regulating the Entry into and the Administration of Foreign Investment in the Real Estate Market was jointly issued by six ministries and commissions such as the Ministry of Construction, the National Development and Reform Commission and the People's Bank of China on July 11, 2006.
This document established far-reaching policies governing foreign investment in China's real estate sector. Though many industry insiders believe that speculation by foreign investors will be hindered by the policies, some also worry that the Chinese real estate industry may be influenced negatively as a result.
However, concrete analysis needs to be made of this concrete problem.
"Foreign capital will not significantly affect the office building market in Beijing, especially in western part of Beijing," said Shi Zhiyong, Assistant General Manager and Chief Marketing Officer of Beijing ChemSunny Property Co. Ltd.
In ChemSunny World Trade Center, an office building that Shi's company is developing, most clients are domestic-funded companies.
"We have negotiated with some foreign companies, but did not strike deals because of price factors," Shi said. "The purchasing power of foreign capital is not as strong as Chinese companies right now."
With nine years of experience in the real estate industry, Shi believes prices of landmark office buildings will still increase rapidly, largely because buyers are confident about China's overall economic situation and because of the renminbi exchange rate.
"Moreover, quality of office buildings is greatly improved, promoting the price hike," Shi told Beijing Review.
Nevertheless, in his opinion, since the supply of office buildings in Beijing is quite large---3-5 million square meters are added every year---prices for offices outside of popular sections of Beijing are stagnant, while the number of diamond properties on the market remains thin.
"For office buildings, locality is of vital importance," Shi said. "Especially in western Beijing, there is not much available land and the height of buildings is strictly limited, hence costs of developing office buildings there are higher."
Located in Beijing's prime real estate Xidan area, ChemSunny World Trade Center stands in the Chang'an Avenue, the longest and widest street in the world. It is close to the Ministry of Finance, the Ministry of Education, the financial street and subway, and is surrounded by numerous hotels and shopping facilities. The uniquely designed water scenes, a sky garden, a double atrium and the world's biggest ecological façade system constructed of intelligent double layer breathing style ranks ChemSunny World Trade Center among the top office buildings in Beijing.
Among the three buildings parallel to ChemSunny World Trade Center, two are for rent and one for sale. About 30 percent of the sales plan has been accomplished, with buyers mainly from financial institutions and joint ventures. ChemSunny's goal by 2008 is to have 95 percent of the buildings sold or rented, with at least five transnational companies among World Top 500 housed in the complex.
"There is no doubt that the office building market in Beijing will be better in general thanks to the prosperous economy, convenient transportation facilities as well as continued investment and increased migration," Shi Zhiyong told Beijing Review.