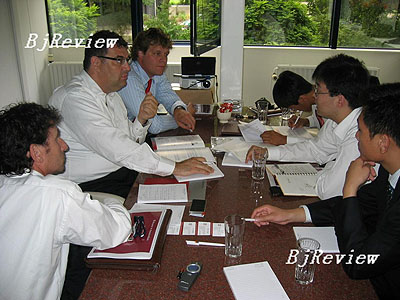 Yet the rosy figures brew unease at the Chinese Ministry of Commerce (MOFCOM). The enormous pressures of RMB (Renminbi) appreciation, anti-dumping charges leveled by trading partners, and the latest anti-subsidy bombs dropped by the United States keep many in the ministry awake at night. The list of trade dilemmas confronting MOFCOM seems ready to continue in perpetuity.
Add the little known secret of bad debt to that list.
Although hardly mentioned in discussions surrounding trade issues, the risk of devastating bad debt hovers like an albatross over Chinese exporters. Lu Yue, head of the Debt Collection Division of China Export & Credit Insurance Corp. (Sinosure), knows the story better than anyone. Lu shared his five years of experience as an international debt collector in an exclusive interview with Beijing Review.
A constant question clients raised in discussions with Sinosure was, "I can buy your insurance, but can you help me collect the overdue accounts?" Guided by the principle of helping domestic companies venture into the international market, Sinosure established the debt collection division in July 2002 with Lu at the helm.
Overdue international accounts have been devastating.
The former TV giant Changhong Electric Appliances Co. is a prime example.
According to Beijing Times, Changhong's annual report for 2002 showed that the default payment from its U.S. partner APEX had reached $490 million. Cooperation between the two continued despite the default, but by 2004 Changhong could no longer sustain. Changhong's bad debt ratio stood high at 28 percent, with aggregate overdue accounts amounting to $300 million. In 2004, due to the losses incurred in the United States, Changhong lost nearly all of its net profit earned between 1998 and 2003. Since these body blows, the TV giant has stumbled in the market and is still treading water.
Trade Catch-22s
Has China benefited from the incredibly high trade surplus? There is no quick and easy answer.
Each year the trade surplus continues to swell. In 2006, it surged to $177.4 billion, up 74 percent from the previous year.
Analysts explain that many Chinese exporters are involved in low added-value production, which entails high energy and resource consumption and contributes to environmental degradation. When these products are exported, China's trade surplus grows and trade frictions increase, triggering international wrangling over China's resource and energy consumption.
In this whirlpool scenario, competitors say China is the one who benefits. Some claim otherwise.