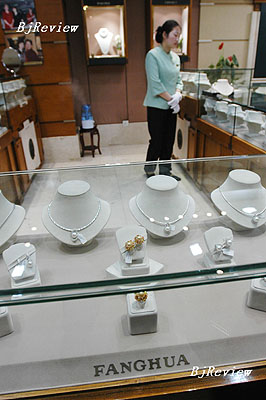 Bai Rufang, owner of a jewelry empire of seven flagship boutiques in Beijing and Shanghai, believes she scaled one peak in her business career the first day she sold pearl jewelry in the Hongqiao Pearl Market, which was then a nondescript semi-enclosed market. The 18-year-old girl, who had struggled to make a living after coming to Beijing alone from her hometown in a southern province, rented a stall the size of a small table with the help of a hometown neighbor who had been a pearl vendor for years. At the end of the first day, Bai had in her pocket revenue of 300 yuan.
"You are a genius," the townsman said. "We have been here for years but never sold so much and you did it on your first day." Recalling that memory, Bai, inspecting one of her stores in an elegant tailored black skirt and wearing a large black pearl ring, had pride in her eyes. "You know, back then most Chinese people got a monthly salary of less than 100 yuan," she said.
Looking back on her days as the champion saleswoman among vendors of about 30 stalls, she attributed her success to her young age and hospitality. "Most customers were foreigners, who tend to trust younger people," said Bai. Another tip for success is that, unlike her competitors in the same market, she received every customer very warmly, whether the person bought her jewelry or not. "Many people visited my booth once and kept coming back," she explained.
Bai's patrons now include many celebrities, such as former U.K. Prime Minister Margaret Thatcher, Finnish President Tarja Halonen, Russian President Vladimir Putin's wife Ludmila Putin, Tony Blair's wife Cherie Booth and former U.S. President George H.W. Bush and his wife. All these celebrated customers liked her frankness and honesty, and affectionately called her "xiaobai," or "little bai."
Bai told one anecdote about the Finnish president, who paid a brief visit to her store, Fanghua, one day in 2004. Bai found out only later from the Finnish ambassador's wife, who accompanied the president to Fanghua, that the president had a one-day layover in Beijing on the way back from a visit to Japan and shopping in Fanghua fit into her tight schedule since she liked Bai and her products a lot.
Tourists in the pearl market, mostly foreigners, kept flooding in and purchased pearls as souvenirs by the dozens or hundreds, like a wholesaler. Yet Bai found her profits were nominal despite the large sales volume every day. The prices of the low-quality pearls she sold ranged from $1 to 25 cents. Bai gradually developed the idea to create her own luxury pearl brand.
The facelift to the Hongqiao Pearl Market in 1995 offered Bai an opportunity to realize her dream. After moving her booth into the new five-story building, Bai decided to run her booth under the brand of Fanghua. Fang is a character from her name meaning armor and Hua comes from her husband's name, which means glory.