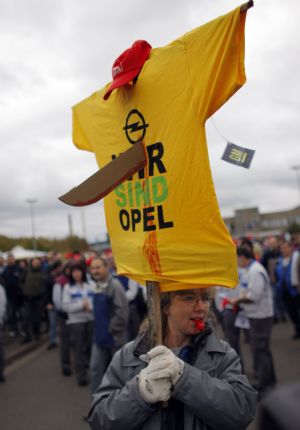 An employee of German car manufacturer Opel holds up a t-shirt reading 'We are Opel' punctured with a cardboard knife symbolizing GM, during a warning strike at the Opel plant in Kaiserslautern November 5, 2009. The board of General Motors Co has opted to keep Opel, undoing months of painstaking negotiations to sell the European unit to a Russian-backed group led by Canada's Magna. GM confirmed the decision made by its 13-member board after a meeting of directors on Tuesday in Detroit (XINHUA)
Thousands of workers at Opel plants in Germany went on street in Ruesselsheim near Frankfurt on Thursday to protest against GM's decision to keep Opel.
Around 10,000 Opel employees gathered in Rsselsheim near Frankfurt with banners and a fake coffin to express their rage at General Motors, which canceled the planned sale of its European operations to Canadian auto parts manufacturer Magna on Tuesday, according to the local media reports.
"We want to show that we workers won't simply take this and accept it," said Alfred Klingel, the head of the workers' council at the Ruesselsheim plant.
Other protests took place at Opel plants in Bochum, Eisenach and Kaiserslautern. GM's decision also angered German media and governments, thinking it's a kind of humiliation. "Opel -- the bigpiss-take," screamed the front-page headline of the best-selling Bild newspaper on Thursday. "The Americans duped everyone."
On Thursday German Chancellor Angela Merkel urged U.S. President Barack Obama to take action on the issue of Opel, according to the report of DPA.
"Government will urged General Motors to present a new strategy for Opel as soon as possible and to repay the bridging loan of 1.5billion euros (about $2.2 billion) by the end of November," said Merkel's spokesman Ulrich Wilhelm on Thursday in Berlin.
The German government has offered 4.5 billion euros (about $6.6 billion) in taxpayers' money to sweeten the deal that GM sell Opel to Canada's Magna International and Russia's Sberbank in an effort to rescue as many German jobs as possible in the past year.
However, on Tuesday GM announced an abrupt U-turn decision to keep Opel, citing what it called "an improving business environment for GM over the past few months, and the importance of Opel/Vauxhall to GM's global strategy."
(Xinhua News Agency November 6, 2009)