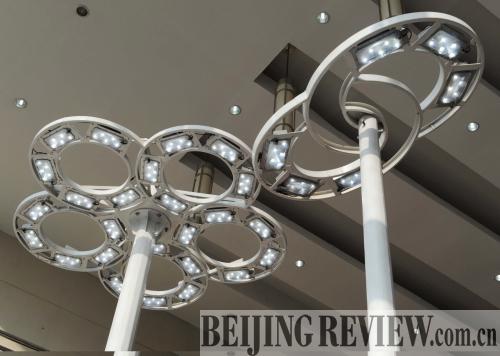 BRIGHT PROSPECTS: Shenan Group Beijing launched an outdoor LED lighting pilot program, with LED lights displayed above, in Beijing last December (CHEN SHUGEN) 
On October 12, the National Development and Reform Commission (NDRC) announced a six-year program for the LED (light-emitting diode) industry, delivering a strong boost to the energy-efficient sector.
According to the program, the industry will maintain an annual growth rate of around 30 percent year on year in the run-up to 2015, and will account for 20 percent of the functional lighting market, at least 50 percent of the LCD (liquid crystal display) backlight market, and 70 percent of the decoration lighting market.
Prior to the program, the country had taken measures to propel the industry. In 2008, the government handed out 62 million LEDs to many households for free. In May 2009, the Ministry of Science and Technology kick-started a pilot program in 16 provinces and municipalities to widen LED use.
The justification for the government's vigorous promotional efforts is simple—LEDs are energy-efficient, environmentally friendly and small in size. They are also widely used in a number of areas explaining why many foreign countries are making a push into the LED business as well. Both of the United States and the European Union have mapped out plans to push the industry forward.
The good news for China is that the efforts are starting to pay off. According to the NDRC, the 62 million LEDs distributed in 2008 have saved 3.2 billion kwh of electricity and reduced 3.2 million tons of carbon dioxide and 32,000 tons of sulfur dioxide emissions, respectively.
Analysts estimate that if adequately implemented, the program for the LED industry will be able to save 40 billion kwh of electricity annually and reduce 40 million tons of carbon dioxide emissions by 2015.
Healthy growth
China has become the largest producer of LEDs in the world, accounting for 18 percent of global market shares.
But data from the NDRC showed that there are more than 3,000 LED manufacturers in China, 70 percent of which are engaged in downstream productions and rely on imports for LED chips and other parts.
Zhao Jiarong, Director of the Department of Energy Conservation and Environmental Protection under the NDRC, told Beijing Review that China has built up a complete industrial chain of LED productions, but many smaller players are unsuccessful in branding and competing against rivals due to a lack of core technologies, such as manufacturing of the MOCVD (metal organic chemical vapor deposition).
In order to encourage domestic technological breakthroughs, the program pledges to offer greater incentives, including tax breaks and government procurement, for technological innovation.
In addition, the program has set a target to make 70 percent of the chips needed for LED without foreign assistance, while fostering three to five major chip manufacturers domestically and around 10 backbone LED makers. An industrial standard for the sector will also be established by 2015.
The Chinese economy is accelerating its shift toward more energy-efficient manufacturing, which offers a golden opportunity for the LED industry to gain momentum.
Wu Ling, Secretary General of China Solid State Lighting Alliance, estimated that the output value of the country's LED industry will grow 15 percent this year, and probably secure a faster growth of 50 percent in 2010.
Program problems
The industry still has many hurdles to overcome before finding a solid path of growth.
One of the most daunting challenges is the acute shortage of talent, said Wu, in a recent report. Aside from this, it is also imperative now to consolidate the highly fragmented sector and facilitate bigger and stronger manufacturers, he added.
In the six-year program for the LED industry, the NDRC also emphasized the importance of addressing an array of bottlenecks, including a lack of core technologies with independent patents, blind investments, vicious competitions, and serious waste of resources.
In response, the government will take seven counter-measures, including strengthening financial support to technological researches and applications, luring more private sector investments into the industry and enhancing international cooperation, said Zhao.
"With the government stimulus taking root, a handful of LED producers with brand recognition and technological edges will sprout up to push forward the industry with energy conservation and emission reduction resolutions," he added.