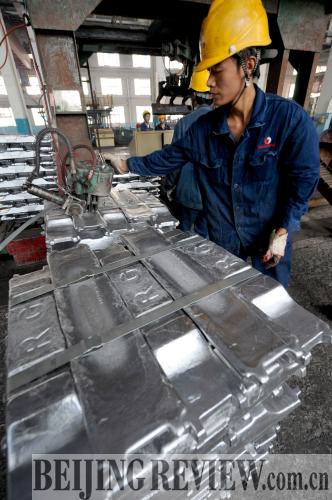 EXCESS PRODUCTION: A worker on the production line of Henan Shenhuo Group Co. Ltd. inspects electrolytic aluminum products. Electrolytic aluminum production is one of the major industries confronted with excess capacity (ZHU XIANG) 
Enterprises looking to invest in the steel, cement or plate glass sectors will find it difficult to establish operations. The government is saying "no" to any expansion into these industries.
Six industries, including steel, cement, plate glass, coal chemicals, polysilicon and wind power equipment, are identified as key sectors that need to be controlled, with approvals for further expansion unlikely in the future, said Xiong Bilin, Deputy Director General of the Industry Department of the National Development and Reform Commission (NDRC) on October 19 in Beijing.
In terms of industrial development, environmental protection, land acquisition and financing, the NDRC will take measures to control and adjust the overproduction, he added.
Apart from the six specified sectors, electrolytic aluminum, shipbuilding and soybean crush are also placed on the industrial blacklist.
China's desire to control overcapacity aims at alleviating economic risks and safeguarding the healthy development of economy, said Xiong.
A lingering problem
Overcapacity is not a new problem. As early as 2004, China had focused its micro-adjustment efforts on controlling excess capacity. By the end of 2005, the State Council, for the first time, issued a special order restricting overcapacity. In 2007, the NDRC acquired commitments from 10 provinces, including Hebei, Shanxi, Henan and Shandong, to reduce iron and steel capacities, which currently stand at 40 million and 41 million tons, respectively. Two years have passed, yet the various efforts to cap overcapacity seem to have solved few of the problems.
Last year, in response to the global financial crisis the Chinese Government implemented a stimulus package to promote domestic demand and expand economic growth. Revitalization plans for 10 industries, including steel, textiles and electronics, were also put into action. While propelling economic development, the Chinese Government vowed to adjust the economic structure by controlling total production, encouraging technological renovation and indigenous creation while ruling out backward capacity.
Structural adjustments may have made progress to some extent, but have produced less than satisfactory results. The overcapacity and redundant low-level construction in some sectors became an increasingly serious problem. "Blind expansion prevails not only in some traditional industries, like steel and cement, but also in emerging ones, like wind power equipment and polysilicon," said Xiong.
Some local administrations, however, approved the redundant projects against the principle of national adjustment, Xiong said.
A new round of investment, resulting from stimulated domestic demand, had boosted the construction of redundant projects that contributed to the severe overcapacity problem, a report released by the National People's Congress Financial and Economic Committee this August stated.
The dearth of mechanisms for backward capacity withdrawal has been the major difficulty hovering above overcapacity, the report also stated.
"If we failed to control the overcapacity and repeated construction in some sectors, vicious competition shall be unavoidable," said Xiong.
The results of blind expansion, such as enterprise breakdowns, worker layoffs and soaring non-performing assets, will exert a negative influence on the warming economic situation achieved through a host of bailout plans, allowing China to miss a golden opportunity to adjust its economic structure, he added.
Tougher restrictions
To relieve overcapacity, the NDRC in a combined effort with nine other ministries, including the Ministry of Industry and Information Technology, the Ministry of Supervision, the Ministry of Land and Resources, and the Ministry of Environmental Protection, pooled their resources to launch an information disclosure system. Trade associations related to the overcapacity problem, including the China Iron & Steel Association, the China Building Material Federation and the China Nonferrous Metals Industry Association, will also be involved in the information disclosure process.
The 10 ministries released a number of guidelines on controlling overcapacity and redundant construction (the Guidelines), a rare move since numerous ministries have not been known to combine their efforts to fight against one economic problem.