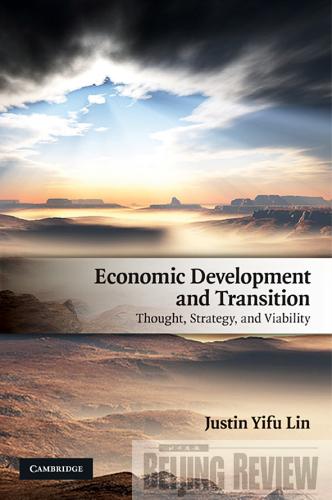 The Cambridge University Press recently published Economic Development and Transition: Thought, Strategy, and Viability by Justin Yifu Lin, Senior Vice President and chief economist at the World Bank. Before he moved to the World Bank headquarters in Washington, D.C., Lin founded the China Center for Economic Research at Peking University in 1994, which is now known as the National School of Development, and has played an important role in educating a new generation of graduate students and advising top officials. A book review by James A. Dorn, Vice President for Academic Affairs and a China specialist at the Cato Institute in Washington, D.C., follows: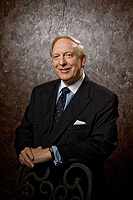 James A. Dorn 
This is perhaps Justin Yifu Lin's most important book. Based on the author's 2007 Marshall Lectures at Cambridge University, the purpose of the book is to improve our understanding of how countries can move from poverty to wealth—or, as Lin puts it, to help "developing and transitional countries jump from the kingdom of necessity to the kingdom of freedom."
In a nutshell, the author argues that the fundamental determinant of development is not natural resources or capital investment, but the choice of institutions, which depends heavily on the government's development strategy and, thus, on the prevailing "social thought."
Following World War II, the dominant development strategy relied on central planning of investment, state ownership, import substitution (i.e., protectionism), capital and exchange controls, and other interventionist policies. Lin labels this approach "a comparative-advantage-defying (CAD) strategy" and contrasts it with a "comparative-advantage-following (CAF) strategy, where policymakers rely on market prices, profits, and international competition to help guide resources—as opposed to protecting "nonviable" firms (i.e., firms that could not survive in a free market).
The drive to catch up to developed countries and the appeal of nation-building led leaders in many underdeveloped countries to disregard the economy's "endowment structure" (i.e., "the relative abundance of capital, labor, and natural resources") and steer resources away from labor-intensive toward capital-intensive industries (such as iron and steel). Trade barriers were erected to protect infant manufacturing industries, and favored domestic firms were given cheap loans and other forms of government assistance. The goal was to build the "commanding heights" of the economy (heavy industries).
That strategy proved costly. For an underdeveloped country where labor is the relatively abundant factor of production, it is wasteful to employ capital-intensive production methods. A capital-poor country has a comparative advantage (a lower opportunity cost) of engaging in labor-intensive production. To deny the principle of comparative advantage reduces the wealth of a nation. More importantly, economic and personal freedoms are infringed.
Lin emphasizes the importance of "right ideas." He notes that underdeveloped countries that followed a CAD development strategy and disregarded the economy's endowment structure and the principle of comparative advantage suffered from poor performance, while those countries that opened to the market and embraced international trade fared much better.
For emerging market economies that start off with a large state sector like China, Lin recommends a gradualist, dual-track approach to making the transition from planned to market. He recognizes the importance of privatization, but he also thinks transitional economies need to consider the problem of viability and let the non-state sector grow spontaneously, while dealing with nonviable state-owned enterprises.
In Chapter Seven, Lin addresses the issue of why countries and regions such as Japan, South Korea, Singapore, Hong Kong and Taiwan followed a CAF development path rather than adhering to the prevailing CAD strategy. It is important to recognize that East Asian governments did not intentionally choose a CAF strategy, notes Lin. Rather, resource constraints forced them to recognize the economy's endowment structure and to allow a more spontaneous development of industry than in countries or regions pursuing a CAD strategy.
In examining China's transition to a market economy, Lin emphasizes that much of the reform process was due to pragmatism. Paramount leader Deng Xiaoping allowed bottom-up experimentation. The rise of the household responsibility system, in which individuals could market their crops after satisfying a state quota, and the emergence of township and village enterprises were not planned. They arose spontaneously as individuals sought to make themselves better off and took advantage of new opportunities. When the state took no action, the market expanded, which is what Lao Tzu would have recommended. Once the reforms were successful, the Chinese Communist Party sanctioned them.
Perhaps the most important conclusion Lin reaches from his study of East Asian economies is that "in a gradual, piecemeal reform . . . the government should not have a predetermined, grand blueprint."
A crucial message in Lin's book is that economic freedom is an important determinant of development. Moreover, to "jump from the kingdom of necessity to the kingdom of freedom," one must understand the benefits of a free market and its institutional requirements. Lin provides many lessons from the failure of state-led development and from the success of market-led development. It is interesting that, in discussing the determinants of development, Lin ignores foreign aid. Indeed, the word "foreign aid" does not even appear in the book's index. Clearly, Lin does not see foreign aid as a key to development—or at least did not when he wrote this book.