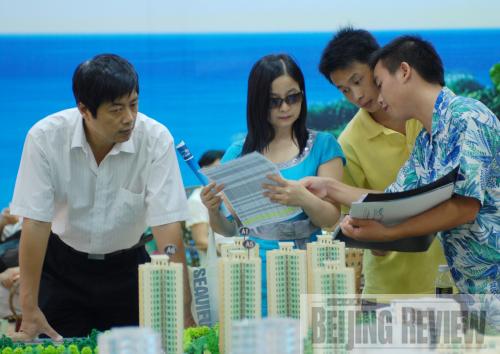 RISKY BUSINESS: A sales agent introduces potential homebuyers to a project at a property fair in Haikou, capital city of Hainan Province. Experts have started to warn people of an overheated market on the Chinese mainland (WANG HUIYU) 
Like other Asian countries, property prices in China have rebounded sharply since the beginning of this year, fueled by loose monetary policies and aggressive bank lending. Experts' asset bubble concerns have not dampened their optimism toward investing in China's housing market in the long run. However, market insiders have started to warn investors that the asset price inflation has moved to a stage where property is becoming a risky short-term investment. Xia Bin, Director of the Finance Research Institute of the Development Research Center under the State Council, expressed his opinions in an article recently published in Economic Information Daily. Edited excerpts follow:
Despite the room created for price growth in the long term, China's property sector may be nearing its short-term peak and could end up teaching home investors who take mortgage loans an expensive lesson.
Factors backing a more prudent approach include the property market's short-term uncertainty, the fact that the growth of people's purchasing capacity takes time and the government's determination to tackle property speculation based on lessons learned from the property meltdown in the West.
Long term versus short term
The Chinese media often compares home prices in Shanghai and Beijing with those in Hong Kong, concluding that mainland asset prices will continue to rise. Their basis surrounds speculation that China is likely to maintain its fast economic growth and that the average income level will continue to rise. China's urbanization will also gain momentum as a result of globalization, causing the population of big cities, like Shanghai and Beijing, to grow.
However, they usually fail to consider the disadvantageous factors like the adjustments of economic cycles, an immature asset market, single children's property inheritance from their parents and possible mistakes in macroeconomic policies that have the potential to dampen economic prospects. Taking these into consideration, the asset prices might plummet in the short term, causing serious losses for those betting on further inflation.
China's decision makers have gradually realized that housing is not only a commodity, but a basic right. The government has realized that the macro-control over the property market should be based on the provision of affordable housing for the low-income groups.
Considering that Chinese people's income levels are relatively low and that the improvement of a country's welfare level takes time, people should not put too much expectation into the residents' purchasing capacity for second homes or college graduates' capacity to buy housing through a mortgage.
Lessons from the West
The property sector is beyond doubt a pillar industry in China. Meanwhile, home purchases can be considered either a form of consumption or an investment. During speculative asset price inflation, housing's nature as an investment tool is more conspicuous, which might worsen the macroeconomy's fluctuations during economic cycles.