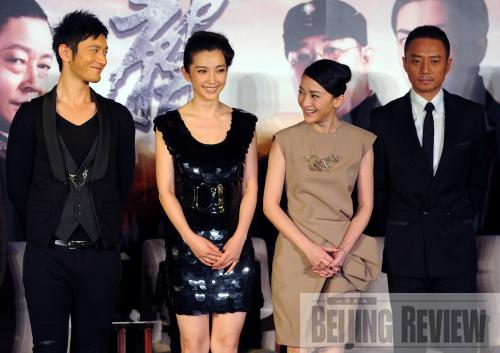 DREAM TEAM:(From left)Huang Xiaoming, Li Bingbing, Zhou Xun and Zhang Hanyu are now among the most profitable stars for HBMC (CFP) 
While the rich and famous typically find themselves as the centerpieces of many a new love affair, dramatic weight loss or plastic surgery story, last month movie fans found their idols' names associated with yet another topic of discussion which is sure to turn heads—a new business venture.
On September 27, Huayi Brothers Media Corp. (HBMC), the biggest private movie production company on China's mainland, had its initial public offering (IPO) application approved by the examination board of growth enterprise market (GEM), the equivalent of the United States' NASDAQ.
Wang Zhongjun is the Chairman of Board of Directors of HBMC, while his younger brother Wang Zhonglei is currently chief executive officer of the company. The two hold 45.88 percent of stake in the company.
Among the 28 applicants for GEM, HBMC outshined others with a host of A-list stars from China's movie industry. Major HBMC directors/stars-turned-shareholders include Feng Xiaogang, Zhang Jizhong, Huang Xiaoming and Zhang Hanyu, among others. Director Feng Xiaogang and Director Zhang Jizhong hold 2.29 percent and 1.71 percent of shares in the company.
On October 9, the media company released its prospectus of issuing 42 million shares or raising 620 million yuan ($91 million) in the GEM. The official purchase was launched on October 15 with shares priced at 28.58 yuan ($4.18) each. The IPO is expected to bring 1.2 billion yuan ($176 million) for the company, double the initial expected amount.
The capital raised will be injected into the operation of TV programs and HBMC's movie business, said the prospectus.
Focusing on film
When HBMC CEO Wang Zhonglei thinks back to 1998, he can only remember "two big events" that year: the birth of his first child and becoming acquainted with Feng Xiaogang.
Before meeting Feng, Wang and his elder brother Wang Zhongjun, then owner of a successful advertising company, had invested in two unsuccessful movies and TV series that year.
"The big investment did not bring big profits as we expected," said Wang.
Outsiders to movie production at that time, the brothers did not even realize they would have to share movie profits with cinemas.
The 1998 New Year film Sorry Baby achieved a box office income of 30 million yuan ($4.4 million), operating an advertisement budget of 15 million yuan ($2.2 million).
"This movie was the first one in which HBMC participated in the whole process from idea to distribution," said Wang.
The significance of Sorry Baby was not the movie itself, but the formation of a commercially successful team, including Feng Xiaogang as the director, Ge You and Xu Fan as the leading actor and actress respectively.
In the following years, HBMC produced more than 40 movies and achieved box office success in the Chinese mainland. The movie Cell Phone set the box office record in 2003, drawing in 53 million yuan ($7.8 million); No Thief made a stunning 120 million yuan ($17.6 million) in 2004; and Assembly in 2008 brought in more than 200 million yuan ($29.4 million).
In 2004, HBMC's revenue accounted for 35 percent of the total income of the Chinese movie industry.
With a range of success at the box office and its rising fame, HBMC emerged as a titan in the movie industry, incorporating play writing, directing, production, marketing, distribution and cinema operation into its business.
To maintain its prosperity and facilitate further growth, six subsidiaries were established, covering advertising, movies, cultural brokerage, music production and film distribution.