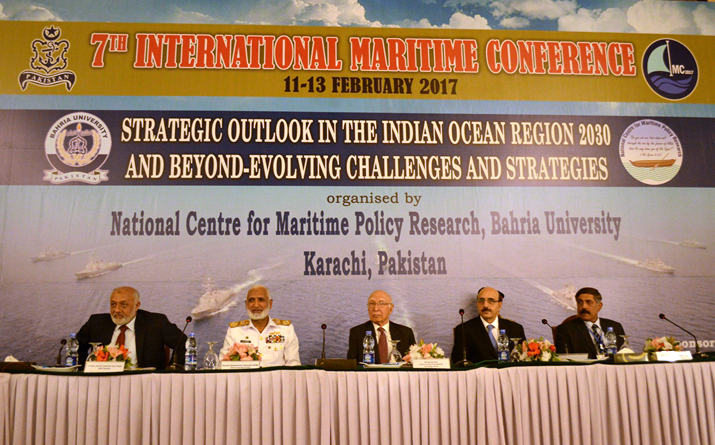 Pakistan's Adviser to the Prime Minister on Foreign Affairs Sartaj Aziz (center) attends the opening ceremony of the 7th International Maritime Conference in Karachi on February 11 (BAI SHI)
A Chinese expert's proposal on building a cooperative platform for marine hazards early warning and mitigation in the Indian Ocean was warmly welcomed by attendees at the 7th International Maritime Conference (IMC) held in Karachi, Pakistan, on February 12, 2017.
During the forum, Wang Dakui, senior engineer of the National Marine Environmental Forecasting Center of the State Oceanic Administration of China, proposed to strengthen international cooperation on building a platform to better forecast oceanic disasters for coastal countries in the region.
"Many coastal developing countries are vulnerable in coping with oceanic disasters," he said. "China is willing to seek international cooperation on building oceanic disaster prevention mechanisms, especially in the south Asian region."
Wang's proposal was echoed by other international scientists and oceanic experts who attended the conference, believing China's scientific achievements enable the country to contribute more to the international maritime community. Oceanic weather forecasting services remain insufficient in many coastal countries in South Asia, which heightens the importance for such cooperation being reached between these countries and China in future.
"China and Pakistan are implementing the economic corridor initiative. In addition to infrastructure projects, China is willing to help Pakistan improve its research and technology within the maritime science and environment sector," Wang told Beijing Review.
According to Wang, China's marine hazards early warning system has served well in forecasting oceanic weather and preventing many losses from natural disasters including storms, typhoons and tsunamis since it was established in 2003.
The 7th IMC was organized by the National Center for Maritime Policy Research at Bahria University in Karachi. The conference aimed to examine the long term effects of emerging factors on maritime security, economy and environment in the Indian Ocean. Hundreds of senior Navy officers, experts and scholars from over 35 countries took part in the conference in Karachi from February 11 to 13.
(Reporting from Karachi, Pakistan)
Copyedited by Dominic James Madar
Comment to liuyunyun@bjreview.com