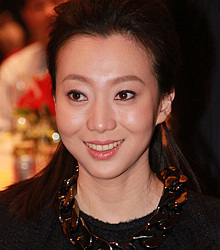 (CFP)
Liu Yan, a famous Chinese dancer, was chosen one of China's Top 10 Women Humanitarians for her contributions to public betterment on May 7, 2011.
Liu, 29, graduated from Beijing Dance Academy in 2003. After graduation, she was devoted to dancing and proved herself a talented one with many prizes. In 2008, Liu was chosen heroine of Silk Road, the only solo dance in the opening ceremony of the 2008 Olympic Games in Beijing. Unfortunately, Liu fell off the stage during a rehearsal and was paralyzed due to the accident.
This disaster stopped Liu from dancing but opened a new world for her. With the guidance of the China Literature and Art Foundation, Liu set up the Liu Yan Arts Special Fund in March 2010, which is mainly designed for contributing to art education for students in poverty-stricken areas, orphan schools and schools for migrant workers' children. According to Liu, as an artist, she understands the significance of art education for children at an early age and she would try her best in this field and help as many children as possible.