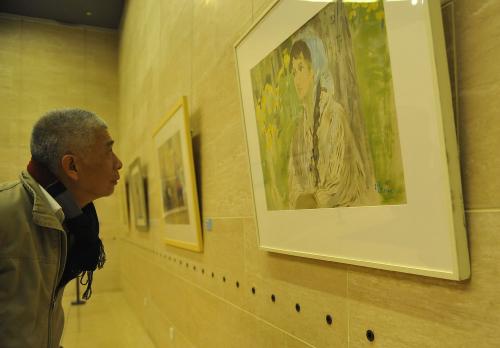 COLORFUL SHOW: A visitor looks at a water-color painting at China Water Color Art Show, which kicks off on January 23 in Beijing (LU PENG)
National Park
China plans to build a national park in the Sanjiangyuan region, the cradle of the Yangtze, Yellow and Lancang rivers in northwest China's Qinghai Province.
A guideline for the park has been completed by a design institute under the State Forestry Administration. The park will cover more than 30,000 square km, including the rivers' sources in Madoi, Zhidoi and Zadoi counties. If the plan is given the green light, construction can begin as early as the end of this year.
At an average altitude of 4,000 meters on the Qinghai-Tibet Plateau, the Sanjiangyuan region is a paradise for herders and wildlife, such as the Tibetan antelope.
"Sanjiangyuan boasts an ecosystem comprising of glaciers, meadows and wetlands. It's not common in China, even Asia, and has scientific value," said Wang Enguang, chief engineer with Qinghai's forestry department.
China established the Sanjiangyuan Nature Reserve in 2000. Five years later, a 7.5-billion-yuan ($1.2-billion) ecological conservation project was launched in the region. In last January, a second-phase conservation project for Sanjiangyuan started with an investment of 16 billion yuan ($2.54 billion).
Thanks to the efforts, the forest coverage rate in Sanjiangyuan increased from 3.2 percent in 2004 to 4.8 percent in 2012, and is expected to reach 5.5 percent by 2020.
Careers in Social Work
The Ministry of Civil Affairs (MCA) on January 26 named 42 prominent social workers to encourage more people to take up the profession.
The professionals work with mental health patients, individuals, families, groups and communities, said MCA social work division head Wang Jinhua.
There are 159,000 registered social workers and assistant social workers in China, and more than 400,000 people are engaged in social work.
In 2014, 2.35 billion yuan ($382.8 million) was invested in social work, up 40.7 percent year on year.
There are more than 30,000 registered social organizations in China as of 2014, said MCA spokesperson Chen Rifa, adding that of that number about 5,000 committed violations in 2014.
Overseas Talent
China has expanded its program to attract overseas talent by adding 55 introduction plans to the latest brain-gain list.
Overseas personnel introduced by the plans will enjoy preferential policies in visa applications, residence permits, settling in China as well as exit/entry convenience equal with members of the influential Thousand Talent program initiated in December 2008, the People's Daily reported on January 25.
More overseas personnel have come to China thanks to the talent introduction programs. Since 2008, the Thousand Talent program has introduced more than 4,100 overseas staff, with local governments attracting more than 30,000, according to official figures.
By the end of 2013, more than 1.44 million overseas Chinese students had returned to China, with returnees in 2013 five times the number in 2008.
The newspaper cited biologist Shi Yigong with Tsinghua University and physicist Pan Jianwei with the University of Science and Technology of China, both among the first group of Thousand Talent program scientists to come back to China, the backbone of the country's innovation.
New rules on foreigners' permanent residence in China are in the pipeline and expected to take effect before the yearend, which will further highlight preferential policies.