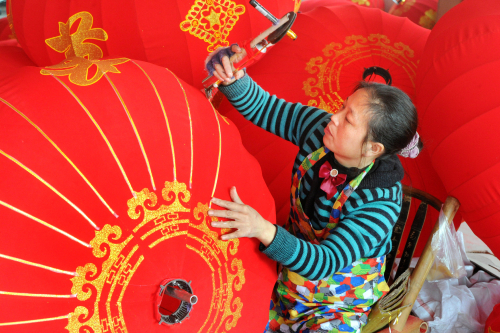 LANTERN SURGE: A worker produces lanterns in Wuyi County, east China's Zhejiang Province, on January 26. Market demand for lanterns surges before the Spring Festival, China's New Year, which falls on February 19 this year (ZHANG JIANCHENG)
WeChat Advertisement
WeChat, now China's most-used instant messaging smartphone app with about 468 million monthly active users, has kicked off an advertising program on its content-sharing platform.
Advertisements for Coca-Cola Co., BMW Brilliance Automotive Ltd. and smartphone maker Vivo Communication Technology Co. Ltd. were shown on the night of January 25 in the Moments timeline of WeChat, which is run by Tencent Holdings Ltd.
The advertisements look like Facebook's News Feed, and users are given the right to opt out of the advertisements if they are not interested.
Tencent said that "a rather intelligent technology" is used to push the ads to their targeted audiences or, in other words, different WeChat users will receive different advertisements.
The advertising program marked a major step in WeChat's commercialization. The app, which was launched in January 2011, has established itself as a super gateway connecting its huge user pool with other third-party services, such as online shopping and taxi hailing. However, the advertising program marks the most straightforward method to date of earning revenue.
Beijing-Moscow Rail
The first high-speed rail link between Beijing and Moscow will run for more than 7,000 km and span three countries--China, Kazakhstan and Russia, according to the Information Office of the Beijing Municipal Government. The office made the revelation in a post on Sina Weibo, a Twitter-like microblogging service, on January 21.
The Beijing-Moscow high-speed rail project was proposed by Chinese Premier Li Keqiang during his visit to Russia last October. Li said that China was ready to advance the establishment of a Eurasian high-speed transport corridor linking Beijing and Moscow.
Local newspaper Beijing Times reported that about 1.5 trillion yuan ($242 billion) was expected to be invested in building the new line that would cut train travel time from Beijing to Moscow to two days. Currently, a one-way trip takes six days.
The China-Russia high-speed corridor will be a key project in the Silk Road Economic Belt China has proposed. The proposed trade route covers China and Central Asian Countries, aiming to deepen the connection between China and those countries.
Bad Loans
The non-performing loan ratio of China's commercial banks rose to 1.29 percent in the fourth quarter of 2014, official data showed on January 23.
The ratio was up from 1.16 percent at the end of September 2014, the China Banking Regulatory Commission (CBRC) said. Commercial banks' bad debt ratio stood at a five-year high of 1.3 percent in the second quarter of 2010.
Despite the rise in the bad debt ratio, Wang Zhaoxing, Vice Chairman of the CBRC, said that the risk in China's banking sector is "under control" with the banks' capital adequacy ratio and provision coverage ratio both at healthy levels.
At the end of November 2014, Chinese commercial banks' capital adequacy ratio, which reflects a lender's capacity to cushion potential losses with its capital, stood at 12.93 percent, up 0.75 percentage point from one year earlier.