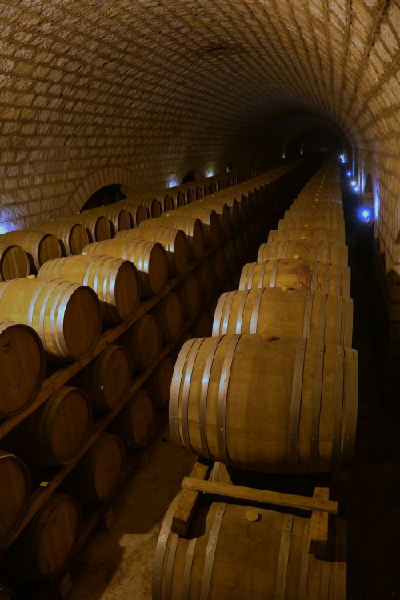 WINE CITY: A wine cellar in Changli County, Qinhuangdao, north China's Hebei Province, which is home to 28 renowned wine makers (YANG SHIYAO)
Unified Pension System
Measures on old-age insurance for workers in government agencies and public institutions were unveiled on January 14.
Insurance will now be paid by both workers and organizations, instead of just by organizations or central budgetary funds as in the past. Workers will pay 8 percent of their monthly salary into the scheme, while the organization will pay 20 percent of the salary, according to a statement by the Ministry of Human Resources and Social Security.
China has nearly 40 million such workers in government agencies and public institutions. Most of them are civil servants, doctors, teachers and researchers.
In the past, corporate employees had to pay for their own old-age insurance, while government staff enjoyed pensions without making any contributions at all.
China introduced the pension system in 1955 and the system started to diverge in the early 1980s as three decades of a planned economy came to an end. Businesses were allowed to assume sole responsibility for their profits and losses and gradually developed their own old-age insurance requiring both employees' and employers' contributions.
The previous pension scheme remained for public employees and dual systems came into being.
Pensions without worker contributions are unsustainable and have become a huge burden on the government. The dual system also hindered free flow of staff between private and public agencies. In addition, public outcry about the resulting inequity has been mounting.
The unification will help create a fair environment for people in different walks of life.
E-Commerce Experiment
Foreign investors will be allowed to fully own e-commerce companies in a pilot scheme in the Shanghai Free Trade Zone (FTZ), the Ministry of Industry and Information Technology (MIIT) announced on January 13.
The MIIT said in a brief statement that telecommunication authorities in Shanghai would take charge of the pilot scheme and regulate and supervise foreign investors.
The entry of foreign investors to Shanghai FTZ is expected to trigger a gradual opening to overseas capital in China's lucrative e-commerce business, which is currently dominated by homegrown giants including Alibaba, JD.com and others.
The Shanghai FTZ was launched in September 2013 to test a broad range of economic reform measures.