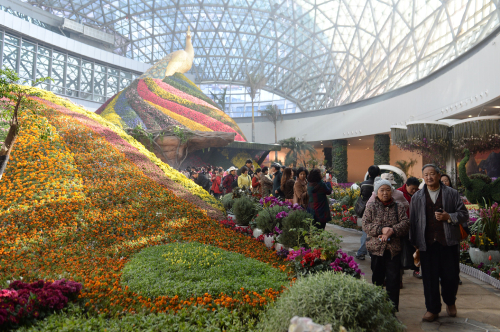 FLORAL BOOM: Guests view flowers in a greenhouse in Kunming, capital of southwest China's Yunnan Province, on January 14 (HU CHAO)
Easing Inflation
China's consumer prices grew 2 percent in 2014 from one year earlier, much lower than the government's 3.5-percent limit set for the year, the National Bureau of Statistics (NBS) announced on January 9. The increase was also below the 2.6-percent growth rate registered in 2013, raising market concerns over deflation.
Growth in the consumer price index (CPI), the main gauge of inflation, rebounded to 1.5 percent in December from November's 1.4-percent rise, its slowest increase since November 2009.
In 2014, China's producer price index (PPI), which measures inflation at the wholesale level, fell 1.9 percent.
China's PPI posted its steepest fall in more than two years in December amid a slump in global oil prices and weak domestic demand. PPI dropped 3.3 percent year on year in December, the NBS said. The PPI has been in deflationary territory for 34 months in a row.
Yu Qiumei, a senior statistician with NBS, attributed the drop to the lower prices of refined oil, oil and natural gas, and chemicals, which contributed to a combined 0.4 percentage point fall in last month's PPI reading.
According to market observers, further easing in consumer inflation and accelerating industrial deflation show signs of stagnation, and that may push the central bank to cut banks' required reserve ratios as a means of easing liquidity and stabilizing growth.
Lagging Foreign Trade
China's foreign trade increased 3.4 percent year on year in 2014 denominated in U.S. dollars, significantly lower than the 7.6 percent rise in 2013 and the 7.5 percent whole-year target for 2014, indicating more room for monetary easing.
According to data released by the General Administration of Customs (GAC) on January 13, foreign trade totaled $4.3 trillion in 2014, up 3.4 percent from 2013. Exports increased 6.1 percent to $2.34 trillion, while imports increased 0.4 percent to $1.96 trillion. The foreign trade surplus widened to $382.46 billion in 2014.
Trade with the European Union, China's biggest trade partner, edged up 9.9 percent, while trade with the United States, its second biggest partner, rose 6.6 percent. China's trade with its third largest partner Association of Southeast Asian Nations (ASEAN) rose 8.3 percent in 2014.
Zheng Yuesheng, spokesman for the GAC, attributed the weak foreign trade growth in 2014 to a slow global recovery, less competitive Chinese-made products, less foreign direct investment in the manufacturing sector and falling commodity prices.
"With depressing domestic demand, we still need policy easing," said Bob Liu, an analyst at the China International Capital Corp., adding that the government may set a lower export growth target for 2015.
On January 14, China's State Council announced a string of measures to accelerate the development of trade in services by opening up business in finance, education, culture and medical treatment in an orderly manner and speeding up service trade liberalization between the mainland and both Hong Kong and Macao.
Monetary Fine-Tuning
China will maintain prudent monetary policies in 2015 with better coordination of tight and loose monetary measures and proper fine-tuning, said the People's Bank of China, the central bank, at a 2015 work meeting on January 9.
The central bank said it will strengthen support for the real economy, cut fundraising costs and boost financial reforms, including reforms on interest rates, the yuan exchange rate and foreign exchange management.
The central bank implemented new tools to tackle changing economic landscape in 2014, including medium-term lending facility and pledged supplementary lending.
The new tools are more flexible and targeted to ensure sufficient liquidity, support the real economy and facilitate structural adjustment, said Zeng Gang, a researcher with the Chinese Academy of Social Sciences. Traditional measures like adjustment in interest rates and reserve requirement ratio still remain as options.
Facilitating FTA
China and South Korea will encourage mutual investment in more sectors as new opportunities are brought about by the expected free trade agreement (FTA).
The two countries will boost investment in automobiles, culture, elder care, film and television production, manufacturing, and medicine, according to the Ministry of Commerce (MOFCOM) on January 9.
The ministry will cooperate with agencies of South Korea to support the building of industrial parks in China for enterprises from both sides.
The governments of Changzhou, Weifang, Weihai, Wenzhou and Yantai intend to set up China-South Korea industrial parks.
The two sides concluded FTA negotiations in 2014. The MOFCOM said in November 2014 that the agreement will be signed this year and will take effect in the second half of this year.