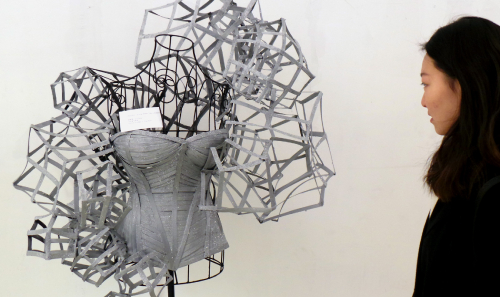 ART SHOW: An item is on display at the Sino-Korean Art Exchange Fair, which kicked off in Beijing on January 14 (LI MINGFANG)
Anti-Graft Priorities
A communique, issued after the fifth plenary session of the Central Commission for Discipline Inspection (CCDI) of the Communist Party of China, which ended on January 14, has put forward seven priorities for 2015, including closer scrutiny of senior officials, an intensification in efforts to track down corrupt fugitives hiding abroad and a tightening of supervision on state-owned enterprises.
The session, which was attended by 125 CCDI members, reviewed and passed a report presented by Wang Qishan, the CCDI chief. President Xi Jinping also addressed the assembled members, which included many senior Chinese leaders, about the country's efforts to eradicate corruption.
The communique said the campaign required political composure, restraint and patience, but stressed that it was not merely a "whirlwind campaign" and the efforts undertaken should not spur "mass movements" that could potentially disturb or undermine social order.
Real ID Online
China will expand the real-name registration system across more social networks and websites. The Cyberspace Administration of China (CAC) will "comprehensively" promote the management of real identities online, with social networks--including microblogging platforms, forums and instant messaging services--all having to enforce a real-name registration system, CAC official Xu Feng said at a press conference on January 13.
Real names will only be seen by backend administrators and users may still choose a screen name.
Chinese Internet authorities have been pressing for a real identity system since 2011, and new users of WeChat and other instant messaging apps have, since August, been required to provide their real names.
China has more than 275 million users on microblogs with Sina Weibo leading the pack, and 459 million users of mobile instant messaging apps, led by WeChat.
Second Child
Nearly 1 million couples have applied to have a second child since China eased its one-child policy in 2014, allowing couples to have a second child if either parent is an only child.
The number of applications falls close to the estimate of less than 2 million annually by China's National Health and Family Planning Commission, said Mao Qun'an, a spokesman with the commission, at a press conference on January 12.
Since China's family planning policy was eased in a pilot program in east China's Zhejiang Province in January 2014, urban couples nationwide may now have a second child if either parent is an only child.
Mao said that the commission will put more effort toward improving the population-monitoring mechanism and will stipulate relevant policies.
"We will also collect public opinion on healthcare for pregnant women and children in a timely manner," Mao added.