PEOPLE
Top Science Award Winner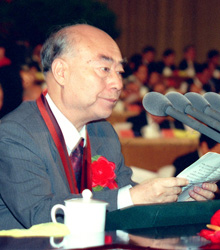 (XINHUA)
Nuclear physicist Yu Min, who was behind China's first successful hydrogen bomb test in 1967, was awarded the country's top science award on January 9. The award, granted annually since 2000, comes with a cash prize of 5 million yuan ($806,933), 10 percent of which is given to the awarded scientist, with the rest earmarked for scientific research under the scientist's guidance.
Yu, an academician at the Chinese Academy of Sciences (CAS), was born in north China's Tianjin in 1926. In 1951, he graduated from Peking University with a master's degree and entered the Modern Physics Institute of the CAS to study nuclear physics. Yu's life converged with the bomb in January 1961 when he was assigned to research hydrogen bomb theories, a clandestine career that would last more than 20 years before the mission was declassified. Following their successes with the hydrogen bomb, Yu and his team worked on the miniaturization of nuclear weapons and the neutron bomb.
Aspirant Submersible Pilot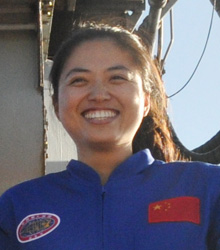 (XINHUA)
Zhang Yi, a pilot trainee, became the first Chinese female to dive into the Indian Ocean with the Jiaolong, China's deep-sea manned submersible, on January 10. Zhang was in charge of communicating with the sub's support ship, operating the camera and observing obstacles during the dive.
In July 2013, China recruited six pilot trainees for Jiaolong out of 130 candidates and two of the six are female, including Zhang, who was born in 1988 in Tangshan, north China's Hebei Province. A year after being recruited, she graduated with a master's degree from the College of Shipbuilding Engineering at Harbin Engineering University in northeast China's Heilongjiang Province.
Zhang and other trainees are participating in Jiaolong's ongoing 120-day expedition in the southwest Indian Ocean. They will be qualified to pilot the deep-sea manned sub after completing their two-year training.
QUOTE
"Being an official and making a fortune are two different roads. If you want to be an official, then you must forget about getting rich."
Xi Jinping, Chinese President, sharing his views on China's campaign with a group of 200 county-level officials from across the country on January 12
"We expect restructuring to be gradual as the government tries to balance growth and restructuring, overcome resistance from various interest groups and address redundancy and debt issues."
Wang Tao, UBS Chief China Economist, commenting on the restructuring of China's state-owned enterprises in a recent interview with Xinhua News Agency
"Ordinary Chinese will be dealing with tax authorities much more frequently. In the process, they will care more about how their money is spent and how their rights as taxpayers are guaranteed."
Liu Jianwen, a professor with Peking University, talking about a draft version of the Tax Collection and Administration Law, according to which individuals may receive a taxpayer identification number for the first time
"Power, money and other temptations are tests to everyone."
Mo Yan, China's Nobel laureate writer, disclosing that he is preparing to write a novel about the ills of corruption
MEDIA DIGEST
Making Taxi Franchise Fees More Negotiable
Shijiazhuang Daily
January 13
Recently, taxi drivers in cities across China such as Hefei and Nanjing have staged a strike, demanding a reduction of the monthly franchise fees paid to taxi companies, which eat up a large share of their revenue.
The taxi companies have bought the rights to operate taxis from the government and they tend to charge franchise fees in the pursuit of the highest possible level of profit. However, with competition from unlicensed taxis, taxi drivers have been feeling the pinch as their incomes increasingly shrink. The only solution that appears to be in sight is that the franchise be reduced.
In order to diffuse tensions between taxi drivers and their companies, a communication mechanism should be established for drivers to negotiate their economic rights with their employers. Trade unions would be one option to unite taxi drivers. However, in reality, there are either no trade unions or those existing haven't fulfilled their obligations.
The priority at present should be to establish trade unions or to make use of existing organizations of this nature to furnish taxi drivers with the opportunity to engage in dialogue on an equal footing with their employers. At the same time, government agencies should serve as coordinators that help ensure fairness and equity in setting franchise fees.
A New Era of Entrepreneurship
South Reviews
January 1-13
With preferential policies from the government and the provision of other favorable conditions, business start-ups are sprouting up across China. Some of the current reform measures, including streamlining administration and lowering thresholds for fledgling businesses, have also fostered growth in this area.
Culturally speaking, starting one's own business has become somewhat fashionable in China. In matchmaking reality TV shows, running a start-up regularly curries favor with the opposite sex for male contestants. In addition, China's progress in respect to urbanization in the last 30 years or so has provided an ideal breeding ground for business start-ups.
Although it is now easier to create a company, in reality, the potential for fledgling businesses in China is limited. First, start-ups abound in a select few sectors such as the Internet industry, so they can hardly be expected have an effect on reshaping China's overall economic structure. Second, there is a dearth of start-ups oriented toward original technological innovation, with the majority of companies imitating or even copying their foreign counterparts.
For example, most Internet companies in China have achieved success by imitating the technologies and business models of their U.S. counterparts and taking advantage of the large Chinese market. Many of them can be seen to possess deficiencies in terms of coming up with original ideas for commercial innovation and contributing to the global progress of information technology.
New Fever for Robot Production
Oriental Outlook
January 1
According to the China Robot Industry Alliance, China has overtaken Japan as the largest consumer of robots around the globe, buying more than one fifth of the world's robot output. In 2014, 36,860 industrial robots were sold in the Chinese market, a growth of 36 percent year on year. Robots have been increasingly employed in China owing to rising labor costs. Industrial robots, which can facilitate automatic production, have helped manufacturers cope with ever-increasing costs of production.
As the market grows, robot-producing companies are being set up in a large quantity. By September 2014, there were 428 robot-related companies in China, 175 of which had been established in the first three quarters of that year. Many companies have dabbled in the area of robots owing to the currently promising market prospects, even though some do not have the capacities and resources needed to produce robots at all.
A select few robot-producing companies in China possess the ability to produce an entire robot, but are unable to develop the complicated application system, which must be installed before a robot can be put into operation. Also, many companies don't possess the technology for producing the key components necessary to build robots. The import of such parts has inadvertently added to production costs and put Chinese robot producers in a disadvantageous position in terms of competition with their foreign counterparts. To sharpen their competitive edge, Chinese robot companies should seek to make breakthroughs on both fronts.