PEOPLE
Newly Appointed Minister of Culture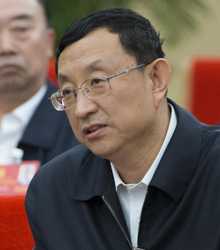 (XINHUA)
Luo Shugang was appointed the minister of culture by the National People's Congress, China's top legislature, on December 28, 2014.
The Ministry of Culture is responsible for formulating policies and drafting laws and regulations related to art and culture. It also governs a number of important institutions and organizations such as the National Library, the Palace Museum and the National Museum.
Born in 1955 in north China's Hebei Province, Luo began his studies at the Department of Socialism at the Beijing-based Renmin University of China in 1978 and entered the School of the Communist Party of China (CPC) Central Committee in 1984, where he received a master's degree. He has worked at Qiushi, the flagship magazine of the CPC Central Committee and the Publicity Department of the CPC Central Committee. He was appointed deputy head of the department in 2008, the obligations of which include overseeing state media.
Plagiarizing Screenwriter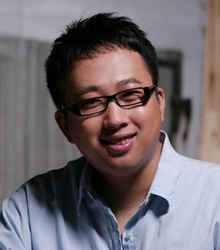 (FILE)
Screenwriter and producer Yu Zheng has been ordered by court to apologize to Taiwan-based novelist Chiung Yao for plagiarizing her work. A Beijing court ruled on December 25, 2014, that Yu, along with four TV companies, shall pay 5 million yuan ($800,000) in compensation to Chiung.
Yu's studio released a statement saying that Yu would appeal. In her complaint filed in April last year, Chiung claimed the plot of one of Yu's recent TV dramas had been almost completely stolen from her novel.
Born in 1978 in Haining, east China's Zhejiang Province, Yu studied at the Shanghai Theater Academy before becoming a scriptwriter. In June 2009, he founded the Quansheng Time Film and Television Co. Yu is best known for Palace, which won him Best Writing at the 16th Asian Television Award in 2011.
This is not the first time that Yu has been embroiled in accusations of plagiarism. A 2006 work of his was suspected of being copied from a 2004 Hong Kong drama.
QUOTES
"Building senior care facilities requires large investments, and the wait for returns can be long. It is very difficult for private companies to build facilities and manage them properly."
Du Peng, a professor of gerontology at Renmin University of China, commenting on the shortage of beds and services for senior citizens in need of care, on December 25, 2014
"The yuan's stability and small rise have increased Chinese consumers' spending power overseas."
Jiang Yiyi, a researcher with the China Tourism Academy, a top tourism think tank, addressing the latest development for the Chinese currency on December 26, 2014
"The new lines are more friendly. They will provide more convenient transfer channels and spacious carriages for passengers."
Xu Chengyong, a subway expert with the Beijing Urban Construction Design & Development Group, commenting on Beijing's four new subway lines which opened on December 28, 2014
"The project will alleviate the pressure Beijing faces to meet demand, but it will not completely solve Beijing's water issues."
Sun Guosheng, head of the Beijing office of the South-to-North Water Diversion Project, on December 27, 2014, the day water from the Hanjiang River, a tributary of the Yangtze River, arrived in Beijing after a journey of 1,200 km
MEDIA DIGEST
Up-Close to a Director
China Newsweek
December 15, 2014
Actor and director Jiang Wen's new film Gone With the Bullets was released on December 18 and invited polarized reactions from audiences. Many say the film is difficult to understand because of its loose narration and lengthy monologues. Lately China Newsweek interviewed Jiang on his views of films and found that he has only two requirements for the art form: One is "interesting" and the other is "entertaining."
As a director, Jiang has a unique style. Each of the five movies he has produced over the past 20 years has resulted in similarly split opinions. These films all bear strong personal traits of the director. The passion represented in the 1994 movie In the Heat of the Sun, the romanticism in The Sun Also Rises in 2007 and the adventurous spirit of the 2010 crime comedy Let the Bullets Fly combine to form Jiang's personality. Jiang is a perfectionist. In order to achieve an ideal portrayal, he would not hesitate to spend money to lay new rail tracks or grow flowers.
Born in 1963 in Tangshan, north China's Hebei Province, Jiang moved to Beijing at the age of 10. He graduated from the Central Academy of Drama, one of China's most renowned acting schools, in 1984. Jiang has won a number of international awards including the Grand Prix in the 2000 Cannes Film Festival.
A Year of Deepened Reforms
Outlook Weekly
December 22, 2014
2014 was the first year for China to implement its plan for deepening reforms. To date, four characteristics have stood out:
First, reforms have unfolded rapidly and efficiently. According to China's timetable for deepened reforms, the reforms were scheduled to take seven years. In 2014, most of the planned major reforms were started or piloted, covering political, economic, cultural and social fields.
Second, reforms have been carried out steadily with a firm resolve. For example, the plan to reduce the staggeringly high pay of senior executives of state-owned enterprises has been realized, although it affects the interests of these managerial professionals.
Third, the rule of law has been highlighted. As President Xi Jinping has repeatedly stressed, major reforms should have a legal basis.
Fourth, fairness and justice have been upheld. For instance, the Central Government has announced that a unified household registration system will be established in urban and rural areas to replace the urban-rural differential management system. Under the new system, disparities in social benefits including education, employment opportunities, pension and healthcare will be eliminated.
Rethinking an Online Blame Game
Guangzhou Daily
December 25, 2014
A set of surgeons' selfies with a patient lying on the operating table has recently stirred heated debate on the Internet, with many blaming the surgeons for lacking professional ethics. The photos eventually led to three officials at the hospital being stripped of their posts and all medical workers in the photos being admonished.
The local public health bureau said it meted out the punishment according to "relevant laws and regulations" without giving details. The patient who appeared in the controversial pictures, however, said he was aware of what the doctors were doing and had agreed before they took the photos.
The boom of online platforms in recent years has produced unintended outcomes. Many people have been used to making comments and expressing emotions on a photo or a sentence without getting a substantial understanding of the situation. This reflects the unhealthy state of mind of Internet users.
The truth should be brought to light. The media, government and public should all respect such a process and adopt independent thinking and reason. This not only represents the right way to construct an amicable doctor-patient relationship but also the way toward social harmony.