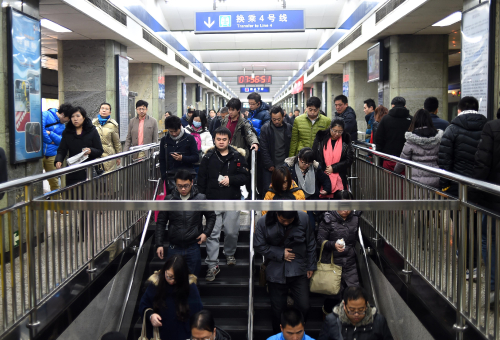 FARE HIKE: Passengers walk downstairs to take a train at the Xuanwumen Subway Station in Beijing on December 29, 2014. Beijing's public transport adopted a new system for calculating bus and subway fares on December 28 last year, which doubled previous prices on average. The increase was not enough to deter commuters who live far from their work from choosing public transport, particularly the capital's always bustling subway lines. The number of passengers taking the subway hit 3.2 billion last year in Beijing, an increase of 350 percent from 2007. (JIN LIANGKUAI)
Reform Achievements
China "basically finished" 80 key reform tasks identified for last year, according to a statement of the eighth meeting of the central leading group for comprehensively deepening reform on December 30, 2014.
In addition, 108 missions assigned to various central departments have also been completed, according to the statement.
The meeting approved a summary of progress in comprehensively deepening reform in 2014, outlined a work agenda for the leading group in 2015 and set key tasks for implementing the decision of the Fourth Plenary Session of the 18th Central Committee of the Communist Party of China in October 2014, which focused on promoting the rule of law.
The leading group was established upon a decision passed at the Third Plenary Session of the 18th CPC Central Committee in November 2013, a measure to promote the country's overall reforms.
Speaking at the meeting, President Xi Jinping, also chief of the leading group, called for continued efforts to quicken the reform's strong momentum.
"Strike the iron while it's hot," Xi urged at the meeting.
Public Service Ads
China has set up a special fund worth more than 10 million yuan ($1.6 million) to support public service advertisements.
Radio and TV programs, roadside billboards and banners have long played a key role in promoting good values and providing knowledge on a range of topics, from furnace safety to giving up bus seats to the elderly.
A total of 132 projects chosen from more than 500 applications have been covered by the fund, the State Administration of Press, Publication, Radio, Film and Television (SAPPRFT) said on December 26, 2014.
Completed projects that have already aired include one by the Beijing Media Network calling for patience in parenting, as well as an anti-speeding ad by a radio station in east China's Zhejiang Province.
Figures from the administration show that central and local television groups made 16,000-plus public service ads under the organization of SAPPRFT as of November 2014, with total air time of some 3 million minutes.
SAPPRFT vowed to increase financial investment to boost the production and airing of public service programs.
Cross-Regional Court
China's first cross-region court and procuratorate were established in Shanghai on December 28, 2014, as part of the country's judicial reform to reduce the interference of local governments on administrative litigation cases.
The Shanghai No.3 Intermediate People's Court is responsible for hearing the cross-region administrative litigation cases, major civil and commercial litigation cases, environmental protection cases as well as food and drug safety cases.
During the trial period, the court will mainly hear the administrative litigation cases with the municipal government as the defendant.
Shanghai had 16 districts and one county by the end of 2013. In the past, each district court and procuratorate is responsible for handling the cases within the district.