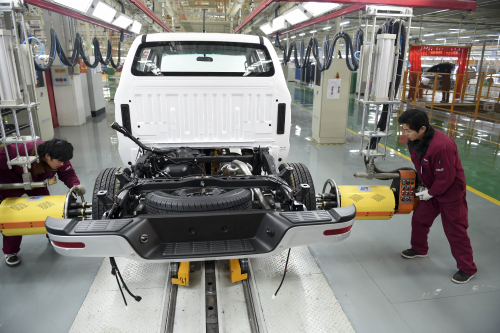 UPSCALING CAPACITY: Workers assemble cars at a production line in domestic automaker JAC's new base in Yangzhou, east China's Jiangsu Province, which started operation on December 28, 2014 (LIU XIJUN)
UnionPay Expansion
UnionPay International announced plans to expand its overseas presence on December 26, 2014, with company's services already available in 148 countries and regions outside the Chinese mainland.
Nearly 20 million UnionPay cards have been issued in Hong Kong and Macao.
The Asia-Pacific region is the market stronghold but UnionPay has also become one of the biggest international bankcard brands. In Europe and North America, UnionPay basically covers the tour sites frequented by Chinese travelers.
The company said it will continue to expand its coverage and improve services so that more foreign nationals adopt their products.
According to data from the China National Administration of Tourism, Chinese travelers made more than 100 million overseas trips in the first 11 months of 2014, compared to less than 9 million in 1998.
FTZ Equity Fund
The Shanghai Free Trade Zone Equity Investment Fund was established in Shanghai on December 28, 2014, the first fund in the country focusing on investment in the China (Shanghai) Pilot Free Trade Zone (FTZ).
The fund, which will raise a total of 5 billion yuan ($817 million) and 1.5 billion yuan ($240 million) in the first phase, was initiated by four state-owned enterprises--Shanghai Lujiazui Finance and Trade Zone Development Co. Ltd., Shanghai Waigaoqiao (Group) Co. Ltd., China Cinda Asset Management Co. Ltd. and China Orient Asset Management Corp.
The fund will mainly concentrate on investment in modern logistics and warehousing, commercial real estate, cross-border e-commerce, an imported goods direct sales center and cultural product trading platform within the FTZ, said Yang Xiaoming, Chairman of the Shanghai Lujiazui Finance and Trade Zone Development Co. Ltd.
In addition to the four state-owned initiators, the fund also hosts investments from private and foreign enterprises, said Yang.
The fund, with a mixed ownership, will promote the financial capital to cater for the real economy, service industry and urban infrastructure, and will become a landmark for the integration of capital and industry within the FTZ.
Oilfield Cuts Output
Daqing Oilfield, the largest oilfield explored by China's major oil and gas producer PetroChina, is expected to reduce its production starting in 2015.
According to the economic working conference of northeast China's Heilongjiang Province on December 27, 2014, Daqing Oilfield--which produces nearly one fourth of China's total oil output annually--will see output reduction by 1.5 million tons this year. By 2020, Daqing's annual output will be slashed to 32 million tons.
As China's largest inland oilfield, Daqing has produced more than 2.1 billion tons of crude oil since production started in 1960.
Limited oil reserves, high cost of development and declining international oil prices have caused the fast-depleting Daqing Oilfield to reduce output, a staff who declined to be named from Daqing told China's Xinhua News Agency.
He said the proper adjustment of output can allow the oilfield to develop sustainably and give more time to research on new technologies.
In order to offset adverse impact of the output reduction on local economy, the province planned to accelerate its economic restructuring and deepen cooperation with PetroChina by promoting the oil refining projects.
Beijing's New Airport
Construction of Beijing's new airport started on December 26, 2014. The project will cost 79.98 billion yuan ($13.11 billion) and take about five years to complete.
The airport is designed to handle 72 million passengers, 2 million tons of cargo and mail, and 620,000 flights by 2025, according to the NDRC.
It is expected to meet Beijing's rising demand for air transportation and help achieve balanced development in the capital's southern and northern areas.
The new airport will be built in southern Beijing's Daxing District, which borders Hebei Province.
Experts believe the project could help boost the regional integration of Beijing, Tianjin and Hebei.
An official with the Civil Aviation Administration of China noted that the new airport could ease the burden of the Beijing Capital International Airport, which is located in northeastern Beijing and was listed as the second busiest airport by passenger numbers in the world in 2013.