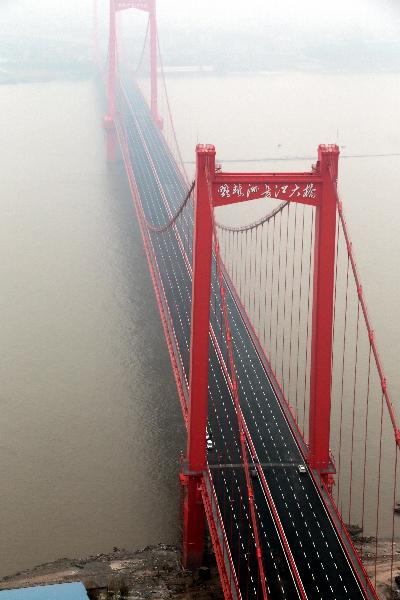 JOINING TOGETHER: After more than three years of construction, the Yingwuzhou Yangtze River Bridge in Wuhan, capital of central China's Hubei Province, is finished on December 28, 2014. The bridge is 3.42 km in length with the main span reaching 850 meters (LIU JIAHUA)
Supporting 'Going Global'
The government will increase financial support for Chinese companies investing and operating overseas, or "going global."
Better financing can make more use of excess production capacity and promote cooperation with foreign companies, according to a statement released after a State Council executive meeting presided over by Premier Li Keqiang on December 24, 2014.
Approval for overseas investment should be made easier to obtain, including the procedures for listing, mergers and acquisitions overseas and for banks setting up overseas branches.
China will ensure financing support for exports of large equipment, encourage commercial banks to finance the whole industrial chain of equipment manufacture and promote use of foreign exchange reserves.
Policies concerning the cross-border payment and clearing of the yuan and export credit insurance should be improved.
Overseas direct investment by non-financial companies rose 11.9 percent to reach $89.8 billion in the first 11 months of 2014, data from China's Ministry of Commerce showed.
Ruling on Qualcomm
China's top antitrust body will form a final ruling on mobile chip maker Qualcomm Inc. as soon as possible, an official statement said on December 27, 2014.
Qualcomm was accused of price fixing and abusing its dominance in the Chinese market. Probes into the case started in November 2013 in response to complaints from industry associations.
Xu Kunlin, Director of the Price Supervision and Anti-monopoly Bureau of the National Development and Reform Commission (NDRC), said the case is being pushed forward in line with legal procedures, according to an online statement of the NDRC.
However, the commission did not mention a specific date for unveiling the ruling.
Qualcomm said it will continue to support the work of the NDRC, said the statement, noting Qualcomm President Derek Aberle had visited the commission several times to exchange views with the bureau.
China-Cambodia Tourism
China and Cambodia signed a memorandum of understanding (MOU) on tourism strategic cooperation on December 29, 2014, aiming at attracting more Chinese visitors to Cambodia.
The deal was inked between Cambodian Tourism Minister Thong Khon and Wang Weimin, Chairman of the state-owned China International Travel Service Corp. (CITS) under the presence of Cambodian Deputy Prime Minister and Cabinet Minister Sok An.
"The cooperation will help attract more Chinese tourists and foreign tourists visiting China to come to Cambodia." Sok An said after the signing ceremony.
According to Thong Khon, to date, 66 Chinese tour operators and 41 Cambodian tour companies have been providing tour services to tourists between the two countries, and eight Chinese airlines have been operating direct flights between the two nations.
"As part of the MOU, a CITS's duty-free shop will be inaugurated in the cultural city of Siem Reap on December 30," Wang said, adding that CITS would operate direct flights between China and Cambodia in the near future.