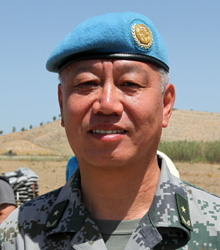 (CFP)
Liu Chao, a Chinese Major General and Commander of the UN Peacekeeping Force in Cyprus (UNFICYP), was relieved of duty on August 11.
Liu had been in the most senior peacekeeping position yet held by China since being appointed leader of UNFICYP on January 13, 2011. Since then, he headed 860 UNFICYP troops from 12 countries.
Born in northeast China's Liaoning Province in 1959, Liu has over 30 years of military experience at national and international levels. He previously served as the military attaché at the Embassy of China in India and was a military observer in the UN Mission for the Referendum in Western Sahara. UN Secretary General Ban Ki-moon recognized Liu's service with UNFICYP, where his dedication, professionalism and leadership greatly contributed to UN efforts.