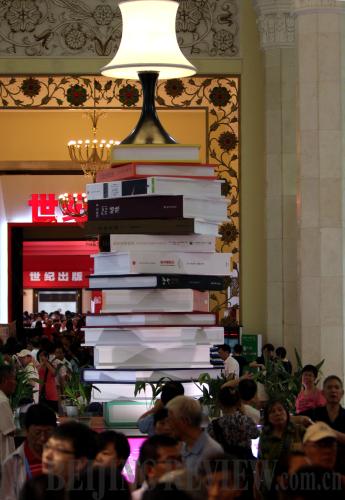 CELEBRATION OF LITERATURE: Local residents flock to the 2014 Shanghai Book Fair on August 13, where 150,000 titles of books were displayed and sold in the following week (DING TING)
Space Launch
China is preparing for the launch of an experimental recoverable moon orbiter, said the State Administration of Science, Technology and Industry for National Defense on August 10.
The orbiter will be launched before the end of this year from the Xichang Satellite Launch Center in southwest China's Sichuan Province, according to a statement from the administration.
The plan is for the orbiter to be launched into lunar orbit and return to Earth at an escape velocity of 11.2 km per second.
The orbiter is one of the test models for China's new lunar probe Chang'e-5, which will be tasked with landing on the moon, collecting samples and returning to Earth.
The launch aims to test the technologies that are vital for the success of Chang'e-5, the statement said.
China already launched three unrecoverable lunar probes in 2007, 2010 and 2013 respectively.
Patent Filings
China received 11,243 international patent applications through the Patent Cooperation Treaty in the first half of the year, the State Intellectual Property Office revealed on August 13.
The number represented an increase of 20.5 percent from a year earlier, according to the office.
Chinese companies and individuals made 10,283 filings, accounting for around 91.5 percent of the total applications.
Information technology giants, such as telecommunication device and solution providers Huawei and ZTE, and semiconductor supplier BOE Technology Group Co. Ltd., were most active in filing patent applications, the office reported.
More than half of international patent applications came from south China's Guangdong Province in the January-June period.
The Patent Cooperation Treaty provides a unified procedure for filing patent applications to protect inventions in each of its contracting member states.
Anti-Graft Campaign
More than 95 percent of respondents to a survey by China Youth Daily hope Chinese authorities can continue their campaign against corruption, according to results published in the newspaper on August 12.
About 93 percent of the sample of 49,969 people said that they are "paying attention" to the campaign, with 85 percent saying they are "paying close attention." Only 2.7 percent said they "did not care."
About 60.5 percent said that the leadership's anti-graft fight has boosted their confidence in China's development, with 29.1 percent saying it had not had any boosting effect and 10.1 percent expressing uncertainty.
China has waged an unrelenting battle against corruption after the 18th National Congress of the ruling Communist Party of China (CPC) held in November 2012.
The most recent officials taken down include Zhou Yongkang, a former Standing Committee member of the Political Bureau of the CPC Central Committee, and Xu Caihou, former Vice Chairman of the Central Military Commission. The two have also been the campaign's biggest catch so far.