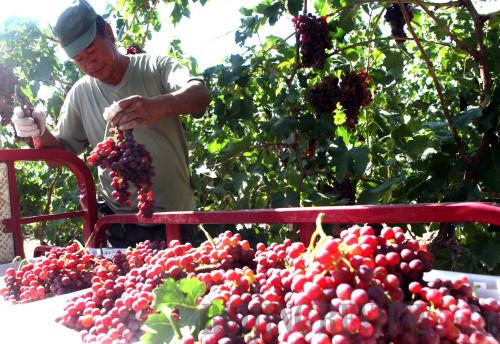 GRAPE EXPECTATIONS: A worker from Xinjiang Production and Construction Corps picks clusters of grapes in Bortala Mongol Autonomous Prefecture of Xinjiang Uygur Autonomous Region (SHEN ZHIJUN)
Tempered Inflation
China's consumer price index (CPI), a main gauge of inflation, grew 2.3 percent year on year in July, the same pace as a month earlier, data from the National Bureau of Statistics (NBS) showed on August 9.
The growth rate was also the same as that of the first half of this year, showing stable prices in the country.
China's producer price index (PPI), which measures inflation at the wholesale level, dropped 0.9 percent year on year in July, according to the NBS.
The PPI has dropped for 29 months in a row, but the pace of decline has narrowed for four consecutive months, down from 2.3 percent in March, 2 percent in April, 1.4 percent in May and 1.1 percent in June.
This narrowing shows that market conditions for industrial products have slightly improved in recent months, said NBS senior statistician Yu Qiumei.
Property Investment
The growth of China's real estate investment continued to slow in July, NBS data showed on August 13.
Property investment rose 13.7 percent year on year in the first seven months, 0.4 percentage points down from the first half of the year and 1 percentage point down from the January-May period.
The investment for residential property, which accounted for 68.2 percent of the total, rose 13.3 percent year on year, compared with a 13.7-percent growth rate for the first six months of 2014.
The slower growth accompanied a faster decline in the area and volume of property sales.
The total area of property sales dropped 7.6 percent year on year in the first seven months, 1.6 percentage points steeper than the decline seen in the first half of the year.
Property sales volume was down by 8.2 percent year on year during this period, compared with a drop of 6.7 percent in the January-June period.
More Companies
China has seen a surge in the registration of new companies in the wake of the country taking steps to streamline the process for starting a business in March, statistics from the State Administration for Industry and Commerce showed.
About 1.6 million new companies have been registered since the registration reform was put into place, rising 64.48 percent from the same period last year.
Registered capital of these new companies totaled 8.22 trillion yuan ($1.33 trillion), up 69.09 percent year on year.
China also lifted restrictions on minimum registered capital, payment deadlines, the down payment ratio and the cash ratio of registered capital on March 1, a move aimed at encouraging startups and energizing the economy.
By the end of July, the number of all types of registered market entities in China came in at 64.99 million, with registered capital totaling 116.94 trillion yuan ($19 trillion).