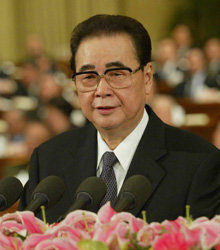 (XINHUA)
Former Premier Li Peng released an autobiography that has become a national bestseller. The book recounts Li's life and career from his birth in 1928 to 1983 when he was named vice premier. The tome contains 16 chapters with 480,000 characters and more than 130 photos.
Li worked in the power industry after graduating from the Moscow Power Institute in 1955. He served as Chinese premier in 1987-98. He retired in 2003 after completing a five-year tenure as chairman of the Standing Committee of the National People's Congress, China's top legislature.
In the book, Li, the son of Li Shuoxun, an early leader of the Communist Party of China who was killed in 1931, also recalls his interactions with the founders of the People's Republic such as Mao Zedong and Zhou Enlai. It clears up, too, a long-circulated rumor that he was Zhou's adopted son. One chapter of the book is dedicated entirely to Li's marriage and family.
In its preface, Li said that he will write another memoir drawing on his experiences from 1983 through to the present day.