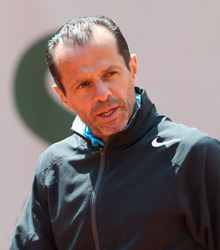 (CFP)
Argentinean coach Carlos Rodriguez recently split with his top student Li Na, China's two-time Grand Slam winner.
Rodriguez, who for 15 years coached Belgian seven-time Grand Slam title winner Justine Henin, was hired by Li in August 2012. He helped Li claim her second Grand Slam title at the Australian Open earlier this year.
Some of Li's fans attributed the breakup to her recent lackluster performance at the Wimbledon Championships and the French Open, where she crashed in the first round. However, Ding Ding, President of Potter's Wheel International Tennis Center, the academy where the 49-year-old coach works, said Rodriguez's decision was not about Li's inconsistent performance but his growing sense of responsibility for guiding the academy's operations.