Former Premier Publishes Memoir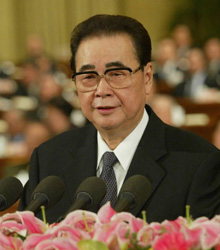 (XINHUA)
Former Premier Li Peng released an autobiography that has become a national bestseller. The book recounts Li's life and career from his birth in 1928 to 1983 when he was named vice premier. The tome contains 16 chapters with 480,000 characters and more than 130 photos.
Li worked in the power industry after graduating from the Moscow Power Institute in 1955. He served as Chinese premier in 1987-98. He retired in 2003 after completing a five-year tenure as chairman of the Standing Committee of the National People's Congress, China's top legislature.
In the book, Li, the son of Li Shuoxun, an early leader of the Communist Party of China who was killed in 1931, also recalls his interactions with the founders of the People's Republic such as Mao Zedong and Zhou Enlai. It clears up, too, a long-circulated rumor that he was Zhou's adopted son. One chapter of the book is dedicated entirely to Li's marriage and family.
In its preface, Li said that he will write another memoir drawing on his experiences from 1983 through to the present day.
Coach Splits With Top Tennis Player
(CFP)
Argentinean coach Carlos Rodriguez recently split with his top student Li Na, China's two-time Grand Slam winner.
Rodriguez, who for 15 years coached Belgian seven-time Grand Slam title winner Justine Henin, was hired by Li in August 2012. He helped Li claim her second Grand Slam title at the Australian Open earlier this year.
Some of Li's fans attributed the breakup to her recent lackluster performance at the Wimbledon Championships and the French Open, where she crashed in the first round. However, Ding Ding, President of Potter's Wheel International Tennis Center, the academy where the 49-year-old coach works, said Rodriguez's decision was not about Li's inconsistent performance but his growing sense of responsibility for guiding the academy's operations.
"You need to book the services of senior yuesao (nannies who specialize in newborn and maternal care following childbirth) at least three months in advance."
Li Jielu, General Manager of Beijing Ainong Homemaking Service Co., a cleaning service and baby care provider, on July 8
"We urgently need to cultivate counter-terrorism specialists to improve our preventive and terror-fighting capabilities."
Cheng Lin, President of the People's Public Security University of China, explaining the university's new move to invite overseas counter-terrorism experts to serve as visiting professors to help train anti-terror personnel, on July 9
"Over the past few years, the quantity and competence of Chinese staff working at the UN have indeed improved significantly. However, this number is still very small compared with China's financial contribution to the organization's annual budget."
Lu Yulin, an official in charge of international cooperation at the Ministry of Human Resources and Social Security, revealing China's plan to invest more in training high-caliber professionals for working at the UN, on July 7
"Today, our sales team in Hong Kong is supporting these Chinese businesses. We are of course exploring ways that we can provide even more support in the future."
Debbie Frost, a spokeswoman for Facebook, said on July 5 in an e-mailed statement regarding reports that say the company has leased space in Beijing to open a China office