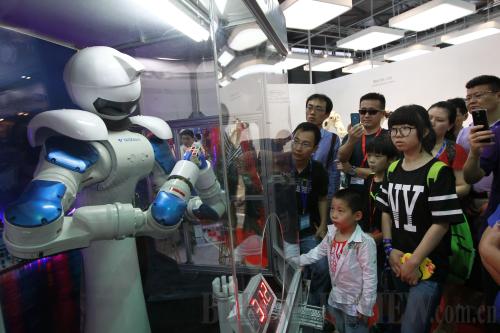 MAGIC WORLD: Visitors take a close look at a robot that can solve a Rubik's cube at the China International Robot Exhibition held in Shanghai on July 9 (DING TING)
Sample Census
China will conduct its fourth 1-percent national sample census next year, covering a population of about 14 million, according to the General Office of the State Council.
The census, which will start on November 1, 2015, will cover about 60,000 residential areas nationwide, said a circular issued by the office on July 7.
Census takers will survey residents' basic information such as name, gender, age, ethnic group, educational level, profession, migration status, social security, marriage, childbirth and housing conditions.
"Data collected in the new sample census will help identify changes in the number, quality, structure, layout and housing conditions of the country's population since the country conducted its last national census in 2010," the circular said.
China, the world's most populous country, has so far carried out six national censuses since 1949.
The Chinese Government first supplemented its thorough national censuses with a sample census of 1 percent of the population in 1987, with another two being conducted in 1995 and 2005.
According to the sixth census, China's population totaled 1.37 billion as of November 1, 2010.
Fewer Primary Schools
China had 266,300 primary and junior high schools at the end of last year, 15,500 less than the previous year, according to the Ministry of Education.
The reduction was mainly due to closure of primary schools, which was down by 15,100. With urbanization, rural schools have been restructured or merged since 2002 to make better use of resources.
There were 12.77 million rural children attending primary and junior high schools in cities where their parents work, and another 21.26 million in rural hometowns.
The number of private schools and institutions grew slightly to 149,000, with more than 40 million students. The number of kindergartens also increased by 17,300.
China has compulsory free education for all children: generally six years of primary school and three years of junior high school.
Migrant Childbirth
About 95 percent of migrant mothers in China had their children delivered in a hospital in 2012, according to a report issued by the National Health and Family Planning Commission on July 5.
The commission estimated that the number of married migrant women of childbearing age topped 63 million in that year.
About 70 percent of migrant mothers chose to deliver their children in the area where they were working and living, the report said.
To help this most under-privileged group, China provides in-hospital delivery subsidies for rural women, a program that has made a significant contribution to reducing maternal deaths and neonatal tetanus.
According to China's official statistics, its migrant population hit 236 million in 2012, meaning there was one migrant citizen per six Chinese citizens.