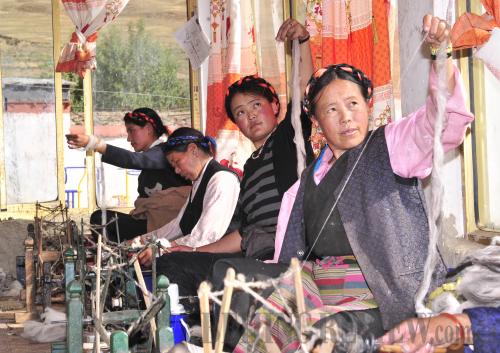 TRADITIONAL HANDICRAFT: Villagers make woolen yarn from wool in Xigaze, Tibet Autonomous Region (LIU KUN)
Extending Foreign Aid
China has exchanged experiences and explored practical cooperation with international organizations in its foreign aid in an increasingly open-minded manner, said a white paper on China's foreign aid released on July 10.
From 2010 to 2012, China contributed a total of 1.76 billion yuan ($281.78 million) to assistance programs initiated by multilateral organizations, including the United Nations Development Program, the World Bank, the International Monetary Fund and the World Health Organization, according to the white paper released by the Information Office of the State Council.
The funds were used to fight AIDS, tuberculosis and malaria, and to support other developing countries in poverty reduction, food security, trade development, crisis prevention and reconstruction, population development, maternal and child health care, disease prevention and control, education, and environmental protection.
Meanwhile, the country has strengthened cooperation with regional financial institutions such as the Asian Development Bank, the African Development Bank and the Caribbean Development Bank to channel more capital into the fields of infrastructure, environmental protection, education and health care in developing countries.
By 2012, China had donated a total of $1.3 billion to these regional financial institutions.
Trade Gaining Steam
China's exports in June increased 7.2 percent year on year to $186.8 billion, as the country's foreign trade continued its warming trend, customs data showed on July 10.
Imports went up 5.5 percent to $155.2 billion and total foreign trade volume increased 6.4 percent to $342 billion, the General Administration of Customs said. Trade balance realized a surplus of $31.6 billion in June.
The combined foreign trade volume in the first half of this year saw a year-on-year growth of 1.2 percent to $2.02 trillion.
Exports increased 0.9 percent and imports went up 1.5 percent in the first half, while the trade surplus stood at $102.87 billion.
Inflation Eases
The consumer price index (CPI), a main gauge of inflation, softened to a 2.3 percent year-on-year growth in June, triggering concerns of broader monetary policy easing.
The growth was in line with previous market forecasts that the CPI in June would take a further dip compared the previous month's figures. NBS data also showed the CPI grew 2.3 percent year on year in the first half.
"The lower inflation rate in June was mainly because of lesser impact from the carryover effects from last year, and fewer new factors for price gains compared to May," said Yu Qiumei, a senior NBS statistician.
China's producer price index for industrial products, which measures inflation at the wholesale level, fell 1.1 percent year on year in June, according to the NBS.
The data marked the 28th consecutive month of drops, but the pace has narrowed from the 1.4-percent fall in May, 2 percent in April and 2.3 percent in March.
The trend indicates some "positive changes" in the industrial market, said Yu.