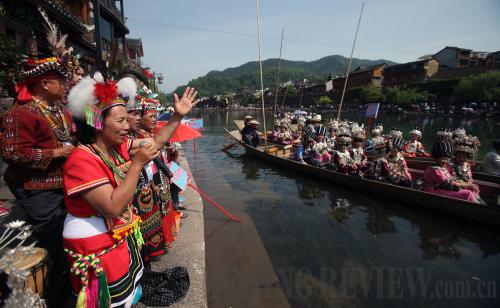 CHEERING FESTIVAL: People from the Rukai ethnic group in Taiwan participate in celebrations for Siyueba in Fenghuang ancient town in central China's Hunan Province on May 6. Siyueba is a traditional festival observed by a number of ethnic minorities on the eighth day of the fourth lunar month (LI GA)
Security Measures
Chinese authorities will launch special operations against domestic terrorists, according to a senior security official.
Law enforcement agencies will implement the leadership's arrangement for counter-terrorism, said Meng Jianzhu, head of the Commission for Political and Legal Affairs of the Communist Party of China Central Committee, at a meeting of officials from law enforcement and judicial departments in Beijing on May 6.
Meng vowed that authorities will strike back against terrorists. Law enforcement agencies and judicial departments will deploy new technologies to detect and remove security threats.
On March 1, assailants killed 29 civilians and injured another 143 at a railway station in the southwestern city of Kunming in Yunnan Province. Three other people were killed and 79 more were injured in an attack at a railway station in Urumqi, capital of northwest China's Xinjiang Uygur Autonomous Region, on April 30. The two incidents were both confirmed as terrorist attacks.
On May 6, a male suspect carrying a knife attacked people at a railway station in the southern metropolis of Guangzhou. The nature of this attack has not yet been confirmed.
Credibility System
China will soon release an outline for building a government-led national social credibility system to assess individuals and organizations on areas ranging from tax payment to judicial credibility.
On May 5, Economic Information Daily reported that the outline, the drafting of which was led by the National Development and Reform Commission and the People's Bank of China, focuses on credibility building in four areas—administrative affairs, commercial activities, social behaviors and the judicial system.
According to the outline, China will also establish an integrated platform by 2017 to collect credibility information on financial, industrial, and commercial registration, taxes and social security payments, as well as traffic violations.
To facilitate the process, individuals and organizations will be coded based on identity card numbers or organization numbers.
Satellite Launch Drill
China's new satellite launch center, located in south China's Hainan Province, will conduct a drill in the second half of this year.
The drill at the Wenchang Satellite Launch Center aims to test the center's functionality, a necessary step for future launch programs, according to a senior official in charge of the program.
The Wenchang Satellite Launch Center is the fourth such facility in China.
A satellite launched from Wenchang, which is located at a low latitude, is expected to enjoy longer service life as a result of the fuel saved by the shorter maneuver from transit orbit to geosynchronous orbit.
Adoption Restrictions
China's religion watchdog has banned unregistered groups and persons from adopting orphans or abandoned infants in the name of their religion. It also laid out detailed rules on the proper adoption procedures.
"Only lawfully registered religious groups, venues and clergy as well as orphanages run by them are allowed to adopt orphans or abandoned infants. No other organizations or individuals should do so in the name of religion," said a circular jointly released on May 5 by the Ministry of Civil Affairs and the State Administration for Religious Affairs.
The circular stressed that qualified religious groups should cooperate with civil affairs departments to strengthen their daily management, take good care of adopted children and conduct activities legally.
Groups wishing to run homes or orphanages independently should first apply for adoption approvals from civil affairs departments and sign agreement papers containing adoption responsibilities and instructions for attending to the adopted children, it said.