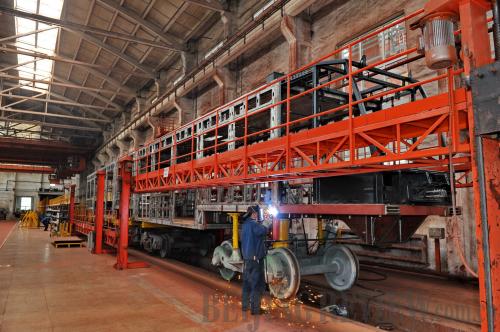 SPEEDING UP PRODUCTION: A staff member from CNR Changchun Railway Vehicles welds a tramcar that will be exported to Ethiopia in Changchun, capital of northeast China's Jilin Province, on May 6 (ZHANG NAN)
Foreign Trade Rebound
China's exports went up 0.9 percent year on year to $188.54 billion in April, customs data showed on May 8.
Imports were up 0.8 percent to $170.09 billion and total foreign trade volume increased 0.8 percent to $358.63 billion, the General Administration of Customs (GAC) said.
Trade balance realized a surplus of $18.45 billion in April, up 1.8 percent year on year, the GAC said.
In light of trade data in April last year being very high, the improvement in trading performances this April is even more impressive, said Xu Gao, chief macro-economy analyst with Everbright Securities. China's foreign trade condition has substantially improved.
During the January to April period, China's foreign trade volume declined 0.5 percent year on year to $1.32 trillion. During the period, exports decreased 2.3 percent year on year while imports went up 1.4 percent.
PMI Pickup
China's manufacturing growth continued to rise in April, fresh evidence of better performance in the manufacturing sector, official data showed on May 1.
The purchasing managers' index (PMI) for the manufacturing sector rose to 50.4 in April, up from 50.3 in March, according to data jointly released by the National Bureau of Statistics (NBS) and the China Federation of Logistics and Purchasing (CFLP).
This is the second consecutive monthly uptick of the widely monitored data. The index began to climb in March after three months of declines.
A reading below 50 indicates contraction, while above 50 signals expansion.
The latest PMI index shows that China's market demand is improving, but the momentum of the recovery is not strong, said Zhao Qinghe, a senior analyst with the NBS.
The PMI for China's non-manufacturing sector rose to 54.8 in April, up 0.3 percentage points from March.
CFLP Vice Chairman Cai Jin attributed the rebound to the warming of the tertiary industry and the recovering market demand against the backdrop of China's economic growth having shown signs of stabilizing after an array of grim indicators at the beginning of the year.
The logistics-related industries have picked up pace, while the wholesale and retail sectors were revitalized, Cai said, noting that the dynamic activity, along with the mild change in price index, will contribute to stable economic growth.
Canton Fair Cools
The biannual Canton Fair, a barometer of the country's foreign trade, had fewer overseas buyers and trade deals in comparison to last year, organizers said.
The 115th session of the fair, which closed on May 5, attracted 188,119 overseas buyers, down 0.81 percent from the previous session last autumn, and down 7.23 percent from last year's spring session, said Liu Jianjun, spokesman for the fair.
Export volume dropped 12.64 percent year on year to 191.18 billion yuan ($31.05 billion), said Liu.
The decrease in attendance and turnover indicated that overseas market demand remained weak, and that the recovery of the domestic market had a long way to go, Liu said.
More Obligations
Chinese state-owned enterprises (SOEs) will have to pay 5 percent more of their profits to the government, the Ministry of Finance (MOF) said on May 6.
The money will be used to improve social services, said the MOF. SOEs administered by the Central Government will pass on up to 25 percent of their profits depending on their line of business.
The change is based on profits made from the beginning of this year, according to the MOF. Tobacco companies will turn in 25 percent of their profits, with petrochemical, electricity, telecom and coal companies paying 20 percent, steel, transportation, electronics, trade and construction companies transferring 15 percent, while military-industrial companies hand in 10 percent.
Some companies including China Grain Reserves Corp. and China National Cotton Reserves Corp. can still keep their profits for their own development.
The central SOEs are expected to deliver 141.5 billion yuan ($22.7 billion) to the government this year, up 36.1 percent from 2013, according to the MOF.