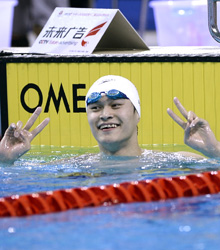 (XINHUA)
China's national swimming team lifted the ban on competing and endorsement on Olympic champion Sun Yang on April 24, who was suspended from the national team for months after a feud with his coach and being caught driving without a license.
Sun will be trained under former head coach Zhang Yadong after his long-term coach, Zhu Zhigen, resigned due to health reasons.
The super star is training for the National Championships, which will be held on May 12. After training with the national team for just one month, Sun has lost 11 kg and is back in fighting form.
Sun, 22, swept the 400-, 800-, and 1,500-meter freestyle golds at the Barcelona World Championships in 2013 and won two gold medals at the 2012 London Olympics in the 400- and 1,500-meter freestyle.