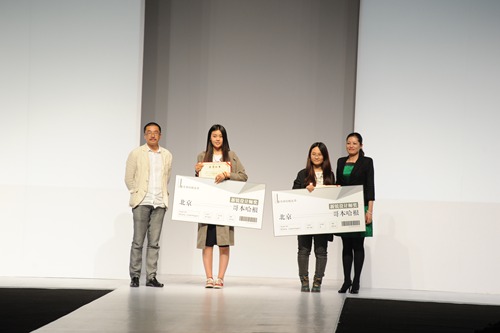 CRADLE FOR DESIGNERS: Winners of the 2014 Kopenhagen Fur Emerging Designer Award are honored at Tsinghua University Graduates Show on April 24, which was organized by the internationally renowned Kopenhagen Fur in conjunction with the university's Academy of Fine Arts (COURTESY OF TSINGHUA UNIVERSITY)
Navigation System
A domestically developed, high-precision global positioning system went into operation in China on April 25, further improving the capability of the country's satellite navigation system.
Xihe, named after an ancient Chinese god, was developed by the National Remote Sensing Center of China (NRSCC) under the Ministry of Science and Technology (MOST). It has an outdoor accuracy of 1 meter and an indoor accuracy of 3 meters, the NRSCC said.
Xihe can identify and connect with various satellite navigation systems, including China's homegrown Beidou, which many other positioning systems cannot identify.
The system has undergone trials in Beijing, Shanghai and Tianjin, according to the NRSCC.
Jing Guife, NRSCC Deputy Director, said that the system will play an important role in many areas, including positioning, transportation and the Internet of Things.
"It will also help extend the application of the Beidou system, which enjoys a smaller market compared with other international competitors," Jing said.
According to a white paper issued by the MOST in 2013, the Xihe system will cover more than 100 Chinese cities and benefit more than 100 million households by 2020.
Environmental Law
The Standing Committee of the National People's Congress, China's top legislature, on April 24 voted to adopt revisions to the Environmental Protection Law, the first change to the legislation in 25 years.
With the addition of 23 articles, raising the total to 70 compared with 47 in the original law, the revised law sets environmental protection as the country's basic policy.
The law gives harsher punishments to environmental wrongdoing, and has specific articles and provisions on tackling smog, promoting environmental protection awareness and protecting whistleblowers.
It says that citizens should adopt a low-carbon and frugal lifestyle and perform environmental protection duties, and nominates June 5 as Environment Day.
The revised law will go into effect from January 1, 2015.
Clean Days
More than half of the number of days in the first three months of the year saw clean air, according to results from 74 Chinese cities that were monitored.
Forty-eight days out of 90, or 53.1 percent, had clean air, up 5.1 percent year on year, the Ministry of Environmental Protection revealed on April 25.
The 10 cities with the most serious air pollution were Xingtai, Shijiazhuang, Baoding, Tangshan, Handan, Hengshui, Jinan, Xi'an, Langfang and Chengdu—most of which are in the country's north—the ministry said in a report.
Air pollution in the region surrounding Beijing was worse than other parts of the country during the three months, and the 13 monitored cities in the region experienced days that failed to meet standards 69.4 percent of the time, while the national average stood at around 47 percent.
There was a slight drop in the density of PM2.5 and PM10 (airborne particles less than 2.5 micrometers and 10 micrometers, respectively) in March compared with the same period of last year, the report added.