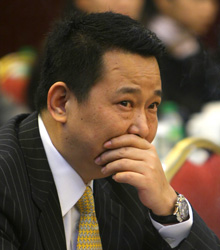 (CFP)
Prosecutors in Hubei Province brought nine murders and other charges against 36 members of an alleged organized crime gang led by Liu Han, a former mining magnate, on February 20.
The gang is the largest of its kind to be prosecuted in recent years in China. Liu and his younger brother were charged with 15 crimes, including intentional homicide, injury and illegal detention.
Liu, 49, is chairman of the board of the Hanlong Group, the biggest private enterprise in Sichuan Province, as well as the publicly listed Jinlu Group. He owns dozens of subsidiary companies involved in electricity, energy, finance, mining, real estate and securities. Estimates put his worth at tens of billions of yuan.