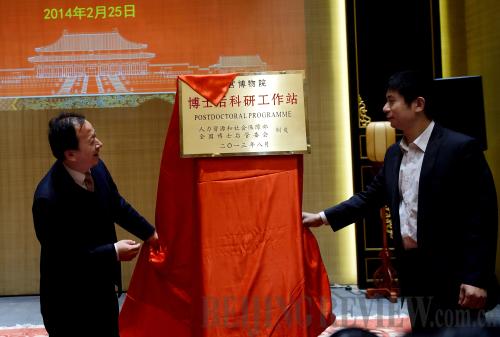 CULTURAL ACADEMIA: A postdoctoral workstation is launched at the Palace Museum in downtown Beijing, where 24 emperors lived between 1420 and 1911. The workstation plans to attract both domestic and foreign PhD graduates over the next three years and help them carry out studies on archaeology and the research of cultural relics (JIN LIANGKUAI)
Lawsuit Against Japan
Thirty-seven Chinese citizens filed a lawsuit in a Beijing court on February 26 demanding Japanese apologies and compensation for forced labor during World War II.
It is the first time that forced laborers from China or their relatives have lodged such a class-action case in a Chinese court. Observers said the case will increase pressure on Japan to correct its interpretation of its militarist history.
The forced laborers and their relatives want apologies to be carried by mainstream media outlets in both China and Japan, as well as compensation from Mitsubishi Materials and Mitsui Mining and Smelting.
Dozens of wartime compensation suits have been filed by Chinese and South Korean citizens in Japan, but almost all of them have been rejected by Japanese courts.
Cross-Straits Pacts
Chen Deming, President of the Chinese mainland-based Association for Relations Across the Taiwan Straits (ARATS), and Lin Join-sane, Chairman of Taiwan-based Straits Exchange Foundation (SEF), signed two cross-Straits cooperation agreements on meteorological and earthquake monitoring in Taipei on February 27.
The two sides also discussed preventing double taxation, speeding up consultations on an agreement on trade in goods, setting up a mechanism for resolving trade disputes, as well as establishing cross-Straits offices by both organizations.
Heads of the ARATS and the SEF have held 10 rounds of direct talks since 2008 and signed 21 agreements on cross-Straits cooperation.
Petition Reform
China unveiled a set of reforms to its petition system on February 25, vowing to uphold the rule of law in handling petition cases and expanding petition channels online to better redress public grievances.
Petitioning, also known as the letters and calls system, is the administrative method for hearing public complaints and grievances. People who are not satisfied with government decisions can request reexamination.
According to the guidelines released by the general offices of the Communist Party of China Central Committee and the State Council, petition cases will be diverted to the courts if they involve lawsuits, and government policy and decision-making will become increasingly transparent and enlist more public participation.
The guidelines asked officials to accept petitions from the public in a face-to-face manner at intervals ranging from one day in six months for provincial-level officials and one day every week for township officials. Those found to have showed indifference or hampered people's interests in petition handling, refusing or delaying petitions, will be seriously punished, according to the document.
Commutation Rule
Chinese authorities have vowed to deter judicial corruption in commutation of sentences and probation following a string of convicts who bribed their way out of prisons.
"Terms and procedures on commutation, parole and serving a sentence outside jail for medical reasons should be stringent within the frame of the law," according to an instructive document released on February 24 by the Commission for Political and Legal Affairs of the Communist Party of China Central Committee.
In a high-profile case, Zhang Hai, former board chairman of Jianlibao Group Co. Ltd., a Chinese beverage giant based in south China's Guangdong Province, fabricated evidence in order to have his sentence reduced by five years in a second court trial and had his jail term further reduced by more than four years while he was serving.
Zhang escaped overseas after he was freed. Twenty-four police officers, prison guards and court officials have been investigated for their role in Zhang's lessened sentence and commutation.