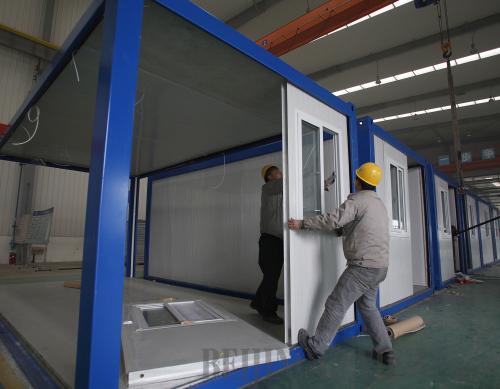 ROOM FOR IMPROVEMENT: Workers assemble container-style rooms in Langfang, north China's Hebei Province, on February 25. Those rooms can be recycled and won't produce any construction waste (WANG SHEN)
Growth Cools
Growth in home prices in Chinese cities continued to slow in January, adding to signs of a cooling property sector, official data showed on February 24.
The trend emerged after local governments took measures to rein in escalating prices and banks tightened lending to property developers.
Month-on-month average growth in new home prices fell to 0.49 percent in January from 0.51 percent in December 2013, the National Bureau of Statistics said.
Of the 70 cities tracked by the bureau, 62 saw home price rise in January from December, compared with 65 cities in December.
Prices in six cities fell in January compared with the previous month, with prices in two cities remaining unchanged.
Growth in new property prices slowed in January in four major cities—Beijing, Shanghai, as well as Guangzhou and Shenzhen in Guangdong Province, the bureau said.
New home prices in Beijing rose by 18.8 percent compared with the same period last year, the slowest year-on-year growth since August 2013.
In Shanghai, prices increased by 20.9 percent year on year, the slowest since last September.
Property prices rose by 18.9 percent in Guangzhou and by 18.2 percent in Shenzhen from a year earlier, the slowest since last July.
Liu Jianwei, a senior analyst at the bureau, said that two factors contributed to the slowdown in price growth.
First, a slew of provincial capitals have tightened property policies and increased supplies of affordable housing since November 2013, helping to stabilize market expectations.
Second, a tightened credit supply has reduced property turnover, denting prices.
Shen Jianguang, an economist in Hong Kong at Mizuho Securities Asia, said, "We see firm determination by the Chinese Government to curb the property market.
"Measures on the financial market are having an impact on the property market. We should see a turning point this year when home prices in China's first-tier cities stop rising."
Scrapping Ceiling
The People's Bank of China, the country's central bank, on February 26 made yet another stride in liberalizing the interest rate, by scrapping the deposit rate ceiling for foreign currencies in a trial free trade zone in Shanghai.
The policy is a continuation of a major foreign exchange reform in 2000, when the foreign-currency lending rate was liberalized as well as the deposit rate for accounts over $3 million.
Interest rates of foreign currencies are fully liberalized in the zone after the move. Analysts believe the central bank is close to making similar steps on the home currency, the yuan, as per a guideline issued in 2002 in which the central bank said interest rate liberalization will start with foreign currencies before moving on to the yuan.
The policy applies to both corporate and individual accounts in the Shanghai free trade zone.
In a press conference in Shanghai, the central bank also urged commercial banks to step up risk management efforts to make sure the new policy doesn't cause cross-zone arbitrage, or foreign exchange rate volatility. The bank said it will watch closely how the policy fares and any irregularities will be met with strict consequences.
Financing Support
China will offer customized financial services to new farming practices to push agricultural modernization, the country's central bank said on February 21.
Financial institutions should give more credit support to innovative farming entities such as family farms and agricultural cooperatives by adjusting loan rates, maturity length and collateral, according to a statement released by the People's Bank of China.
The move is designed to promote moderate-scale farming operations and modern agriculture by easing financing difficulties for farmers.
Loans' maturity length can be extended up to 10 years if farmers plant fruits, trees and other crops with long growth circles, the statement said.
Diversified and innovative financing choices will be offered to meet different farming business needs, with support focusing on production materials and machinery purchase, land contracts and other infrastructure development.
Qualified family farms may enjoy specially designed approaches in the inter-bank market to sell bonds to investors publicly or privately, the statement added.
Last December's Central Agricultural Work Conference and the No.1 central document on agricultural development issued in early January both highlighted the promotion of new farming business models and the need to encourage diversified agriculture practices.