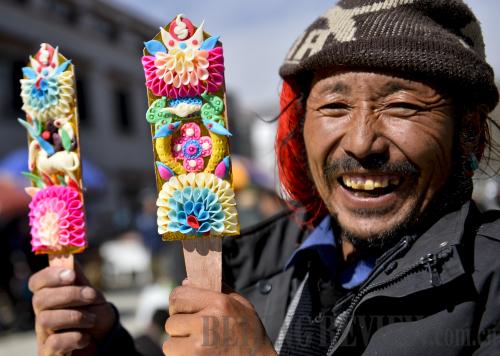 HAPPY NEW YEAR: A vendor in Lhasa, Tibet Autonomous Region, sells butter sculpture decorations before the upcoming Tibetan New Year, which falls on March (XINHUA)
Aid Money
China allocated more than 156.6 billion yuan ($25.78 billion) in subsistence allowances for the poor in 2013, Vice Minister of Civil Affairs Dou Yupei said on February 19.
Last year, subsistence allowances for poor urban residents totaled more than 72.4 billion yuan ($11.92 billion), up 13.9 percent year on year, and those for poor people in rural areas added up to 84.2 billion yuan ($13.86 billion), with an annual increase of 17.3 percent, Dou revealed at a press conference.
"A total of 79.8 million people are receiving government assistance on a regular basis, with 174 billion yuan ($28.64 billion) spent on them in 2013," said Dou, adding that some 100 million medical grants were also issued.
According to the vice minister, the Chinese Government also allocated disaster-relief funding of more than 10.6 billion yuan ($1.74 billion) last year, with 12 million people being relocated from areas hit by earthquakes or floods.
Since China issued guidelines for bringing more security to orphans in 2010, the country has given a monthly allowance of 1,000 yuan ($165) to each child living in orphanages and 600 yuan ($99) to each of those in foster homes, Dou noted.
Attracting Talent
China will recruit more high-level professionals from abroad this year, the country's human resources authorities revealed on February 19.
It is hoped that such experts will be engaged in the country's development, according to a statement from the Organization Department of the Communist Party of China Central Committee, after a national meeting of Party and government officials in charge of human resources.
China has operated a recruitment program to attract overseas Chinese experts to build their careers in the country since 2008.
So far 4,180 people have been recruited, with 861 of those being hired last year, the statement revealed.
These professionals, who are mostly scientists, have contributed to research in bioscience, plasma physics, nuclear technologies, space programs and satellites, it said.
But the government is also working on rules to end contracts with those who do not meet the needs of the country or fail to do their jobs, the statement added.
Supervising Education
The Ministry of Education announced on February 18 that it would step up supervision over the country's primary and middle schools in a bid to enhance education quality and fairness.
The move is aimed at tackling the imbalance of educational resources at the local level and reducing students' workloads, according to a document the ministry posted on its website.
Despite continuous efforts to provide quality education to all, a remarkable educational imbalance has emerged among schools and between urban and rural areas, often forcing parents to pay extra, sometimes illicit, fees to get their children into better schools.
An evaluation system will be established for local governments in order to direct them to prioritize the education sector and improve the quality of public education, according to the ministry.