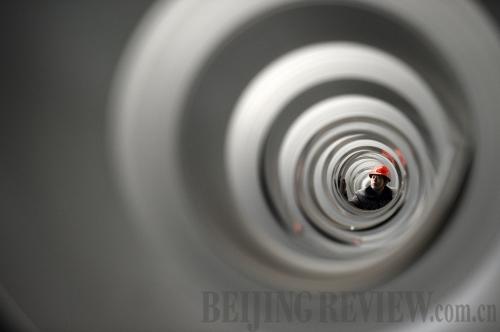 MAN OF STEEL: A staff member from Tangshan Iron and Steel Group Co. Ltd. examines the iron plate made for high-end cars (ZHENG YONG)
Auto Investment
China's Dongfeng Motor Group Co. Ltd. on February 19 announced it has signed an agreement to buy a 14-percent stake in PSA Peugeot Citroen. The deal, if approved, would become the latest major overseas investment made by a Chinese carmaker, following SAIC Motor and Geely.
According to a memorandum of understanding signed on February 18, the state-owned Chinese automaker headquartered in Wuhan, central China's Hubei Province, and the French Government will each invest 800 million euros ($1.1 billion) to the struggling French carmaker. The share sale is subject to regulatory approvals in China and France.
PSA Peugeot Citroen will also raise a further 1.4 billion euros ($1.92 billion) from other investors, including the Peugeot family. Should the share sale be approved, the Peugeot family's current 25.4-percent stake will be diluted to 14 percent, equivalent to shares held by Dongfeng Motor and the French Government.
Thierry Peugeot, Chairman of PSA Peugeot Citroen, said the share sale will help boost the carmaker's financial conditions and growth.
Dongfeng Motor and PSA Peugeot Citroen also agreed to strengthen cooperation in technology, research and development (R&D), manufacturing and overseas distribution.
Also on February 19, PSA Peugeot Citroen released its 2013 results. It posted a loss of 2.32 billion euros last year, following a loss of 5.01 billion euros in 2012.
Cutting Overcapacity
China's Industry and Information Technology Ministry (MIIT) on February 18 pledged tougher measures to cut overcapacity in bloated sectors as the problem has become a severe drag on economic growth.
China will ban new projects in steel, cement, electrolytic aluminum, flat glass and shipbuilding industries before 2017, while gradually eliminating existing projects that were found to be below standards, Mao Weiming, Vice Minister of MIIT, said.
While placing stricter standards in environmental protection, energy efficiency and safety, China will also encourage mergers and acquisitions in industries to slash outdated capacities, Mao said.
The government has been at pains to digest production gluts from an investment boom and generous subsidies in the past few years that saw producers in "favored" sectors expand rapidly with little regard to real market demand.