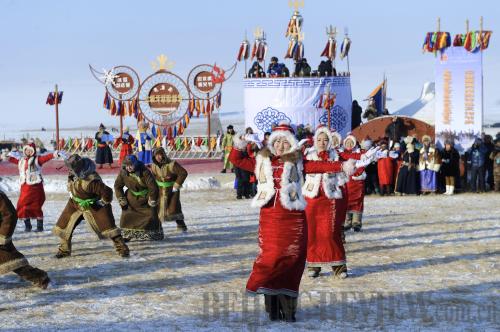 WHITE NADAM: The 14th Inner Mongolia Ice and Snow Nadam Fair kicks off in Hulun Buir, Inner Mongolia Autonomous Region, on December 23, 2013 (JIN YU)
Anti-Graft Plan
The Communist Party of China (CPC) vowed on December 25, 2013 to fight corruption and maintain its "high-handed posture" for the next five years.
A five-year (2013-17) plan on building a system to punish corruption that was issued by the CPC Central Committee stated, "If problems with work styles and corruption are not handled properly, they will critically harm the Party, and could even lead the Party and the nation to ruin."
All cases must be investigated and miscreants must be punished more severely so as to deter others, the plan added.
Within five years, "public satisfaction should be achieved," according to the document.
Particular efforts should be made to deal with cases involving power-for-money deals, judicial corruption, major violations of political discipline, mass incidents and major occurrences caused by corrupt officials, commercial bribery, and improper hiring practices, the plan said.
It urged strengthening intra-Party supervision and extra effort in regulating the use of power, by ordering officials to submit reports annually on their new, cleaner work styles.
The plan also called for an improved legal system to ensure effective implementation of various anti-graft regulations, citing those concerning the use of public vehicles, the construction of office compounds, business receptions and overseas trips.
The CPC has been severe on corruption, with 108,000 officials punished in the first nine months last year.
Judicial Transparency
The Supreme People's Court, China's highest judicial body, issued a judicial interpretation that clarifies procedures for cross-examining cases of state compensation.
The move aims to boost judicial transparency and ensure that compensation claimants and liable parties have equal rights to information, participation and expression.
According to the interpretation, cross-examination should be made public except for cases that involve state secrets, personal privacy or are otherwise stipulated as unsuitable to be shared publicly by law.
It also details the distribution of evidential burden and establishes a time limit system for presenting evidence.
The interpretation is expected to standardize the procedures for cross-examination used by courts at various levels when they hear cases involving state compensation.
Baby Formula Rules
China's food safety watchdog unveiled a revised regulation on December 25, 2013, which will significantly increase standards for domestic infant-formula producers.
The regulation, Detailed Rules on the Examination of Production Licenses for Infant-formula Milk Powder Producers (2013), was drafted with the participation of 30 experts and food and drug supervisors from 20 government departments and organizations, the China Food and Drug Administration revealed.
The revised regulation set new rules and raised requirements for infant-formula producers in nine areas, including the purchase of raw materials, manufacturing and product inspection.