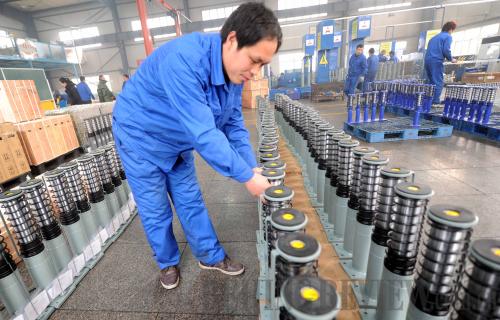 ELEVATOR HUB: A worker at Dongfang Fuda Machinery Co. Ltd. assembles elevator buffers. The company is based in Langfang, north China's Hebei Province, where more than 10 large-scale elevator producers reside (LI XIAOGUO)
China Mobile Deal
Apple and China Mobile announced on December 23 that they have penned an agreement to bring iPhones to the world's largest mobile network.
According to the agreement, the iPhone 5s and iPhone 5c will be available in China Mobile and Apple retail stores across China's mainland starting January 17, 2014.
The 760 million subscribers of China Mobile will have an opportunity to use iPhones on the provider's 4G/TD-LTE and 3G/TD-SCDMA networks.
China Mobile received its 4G license from the Ministry of Industry and Information Technology on December 4. By the end of 2013, China Mobile had provided 4G services in 16 cities, including Beijing, Shanghai, and Guangzhou. By the end of 2014, it aims to expand its 4G network to at least 340 cities, more than half across the country.
Cash Injection
China's interbank money rate fell on December 24 after the central bank put funds into the system by selling seven-day reverse repurchase (repo) contracts for the first time in two weeks.
The People's Bank of China, the central bank, injected 21 billion yuan ($3.43 billion) through repo agreements, a process in which central banks purchase securities from banks with an agreement to resell them in the future.
In the interbank market on December 24, the seven-day Shanghai Interbank Offered Rate (Shibor), which measures the cost at which Chinese banks lend to one another, fell to 6.197 percent. It was above 8 percent before the announcement.
The rate hit a record high of above 13 percent in late June when a cash crunch hit, disturbing financial markets.
Chicken Dispute
China's Ministry of Commerce made a decision on December 25 to reinvestigate its anti-dumping and anti-subsidy duties on U.S. white-feathered broiler chicken imports in response to a WTO report that found China had violated certain rules.
China will review the evidence and information collected during the previous investigation and re-examine them through surveys and hearings.
Disputes over broiler chickens—chickens that are able to reach slaughter weight by about 13 weeks of age—have been a major source of contention in the trade relations between the world's two largest economies.
China imposed anti-dumping duties on chickens imported from the United States in September 2010, claiming that the chickens were subsidized in the United States and then unloaded onto the Chinese market at a price less than the fair value.
Washington requested consultations with Beijing immediately after China imposed duties and then appealed to the WTO in September 2011.
In September 2013, the WTO Dispute Settlement Body adopted a panel report supporting China's arguments regarding determination of domestic industry and trade level differences.
It also upheld the U.S. claims that China acted inconsistently with certain articles of the Anti-Dumping Agreement in conducting the investigations as well as in the calculation of the anti-dumping and countervailing duties.