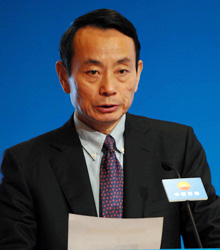 (XINHUA)
Jiang Jiemin has been removed from his post as head of the State-owned Assets Supervision and Administration Commission (SASAC) of the State Council for alleged disciplinary violations. Jiang, born in 1955, is the first member of the 18th CPC Central Committee to be investigated for corruption.
Before being appointed SASAC minister in March, Jiang was chairman of the China National Petroleum Corp., the country's leading oil and gas producer.
Jiang worked in the petroleum industry from December 1972 until June 2000, and from April 2004 to March 2013. He was deputy governor of Qinghai Province between June 2000 and April 2004.