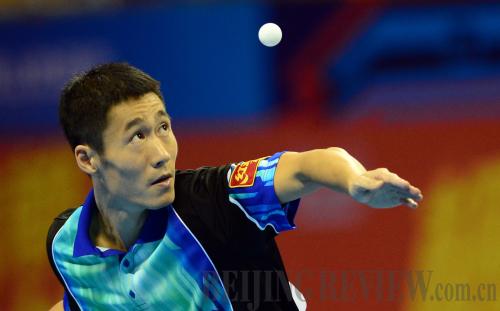 SPORTS STAR: Table Tennis world champion Wang Liqin competes in the men's team event at the 12th Chinese National Games, held from August 31 to September 12 in northeast China's Liaoning Province. More than 9,770 athletes participated (YANG QING)
Discipline Online
The Central Commission for Discipline Inspection (CCDI) of the Communist Party of China and the Ministry of Supervision jointly launched an official website on September 1. Tip-offs about corruption cases can be submitted to the website, which will publish the latest information from important meetings, campaigns and graft investigations. The public can access a database of Party regulations and laws against corruption through it.
As a major move to improve anti-corruption efforts, the website will be a bridge between the public and anti-corruption agencies, said Wang Qishan, head of the CCDI, when inspecting the operation of the website on September 3.
Higher Thresholds
Ten provincial-level regions nationwide have been put under a pilot reform program that raises the threshold of becoming a teacher, the Ministry of Education said on September 3.
Under the program, all teachers could be subject to taking a unified national exam and graduates from teachers' training schools or colleges will no longer be acknowledged straight away as qualified for teaching after graduation.
In addition, life tenure will be scrapped in order to get rid of the safety net allowing under-performing teachers to stay in the education system, and all teachers have to register to stay active educational practitioners every five years.
Initiated in 2011, the program will be expanded to all 31 provincial-level regions on the Chinese mainland by 2015, according to the ministry.
China had about 25 million registered teachers at the end of 2012.
Trademark Law
China's top legislature on August 30 passed a new intellectual property law to crack down on copyright infringements and ensure a fair market for trademark holders.
After three readings over the past two years, the revised law was passed at the bi-monthly session of the Standing Committee of the National People's Congress.
The new law, which will go into effect on May 1, 2014, raises the compensation ceiling for trademark infringement to 3 million yuan ($500,000), six times the previous limit.
It also mitigates the responsibility of trademark holders in providing proof of infringement, saying the alleged offenders shall provide their accounting books or other materials for investigation. Otherwise, compensation could be determined according to the amounts proposed by trademark holders.
Trademark agencies are forbidden from accepting entrustment if they know or should know that their clients are conducting malicious registration or infringing on the trademark rights of others.
Agencies violating the law will face fines and credit score penalties. Those involved in serious cases will have their businesses suspended.
The new law offers protection for well-known trademarks, giving owners the right to ban others from registering their trademarks or using similar ones—even if similar brand names are available.
China adopted its Trademark Law in 1982 and made amendments in 1993 and 2001.