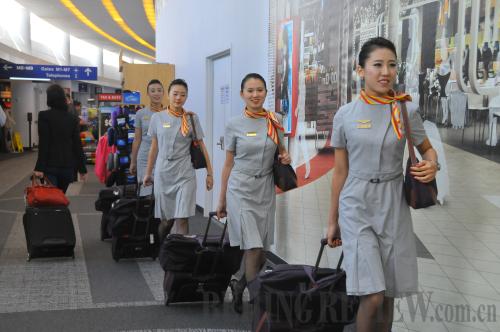 DIRECT FLIGHT: Flight crew head to the boarding gate of a Hainan Airlines flight from Beijing to Chicago. On September 3, Hainan Airlines launched China's first non-stop flight between the two cities (JIANG XINTONG)
Economic Rebound
China's manufacturing activities posted a strong recovery in August, offering further signs that the world's second largest economy is emerging from the shadows of a protracted slowdown.
The purchasing managers' index (PMI) rose to 51.0 percent in August from 50.3 percent in July, marking the second monthly expansion in a row, and the highest reading this year, according to data jointly released by the China Federation of Logistics and Purchasing and National Bureau of Statistics (NBS) on September 1. A reading below 50 indicates contraction, while anything above signals expansion.
The 0.7-percentage-point monthly expansion also represents the biggest increase since January. In the months prior to August, the data had swayed back and forth.
Zhao Qinghe, a senior statistician with the NBS, said the figure shows the manufacturing activities have stronger growth impetus, and the economy is firming up in a more evident way.
China's non-manufacturing PMI fell to 53.9 percent in August from 54.1 percent for July, according to data released on September 3.
China's Top 500
The 2013 edition of the Top 500 Chinese Enterprises list was unveiled at a press conference in Kunming, capital of southwest China's Yunnan Province on August 31, with China's oil giant Sinopec Group topping the list.
The list was compiled by the China Enterprise Confederation and the China Enterprise Directors Association based on the 2012 revenues of Chinese companies.
Sinopec Group took the lead for a ninth year with a total revenue of 2.83 trillion yuan ($458.6 billion) in 2012.
China National Petroleum Corp., the parent company of China's top oil and gas producer, PetroChina, followed closely in second place with revenues reaching 2.68 trillion yuan ($440 billion) in 2012.
The two were joined by eight other state-owned companies to dominate the top 10: State Grid, Industrial and Commercial Bank of China, China Construction Bank, Agricultural Bank of China, Bank of China, China Mobile, China State Construction and China National Offshore Oil Corporation.
A total of 123 companies, including 16 privately owned enterprises, reported revenues of more than 100 billion yuan ($16.34 billion) last year, up from 107 companies a year earlier.
GDP Revised
The National Bureau of Statistics (NBS) on September 2 lowered China's growth rate for 2012 to 7.7 percent based on its preliminary verification.
The revised GDP came in at 51.89 trillion yuan ($8.41 trillion), down 38 billion yuan ($6.21 billion) from the preliminary calculation figure that put the annual rate at 7.8 percent, said the NBS.
Primary industries took up a 10.1-percent share in the GDP structure, while the secondary and tertiary sectors accounted for 45.3 percent and 44.6 percent, respectively, remaining unchanged from the preliminary calculation.
The NBS calculates each year's GDP three times—a preliminary calculation, a preliminary verification and a final verification that is due several months later.