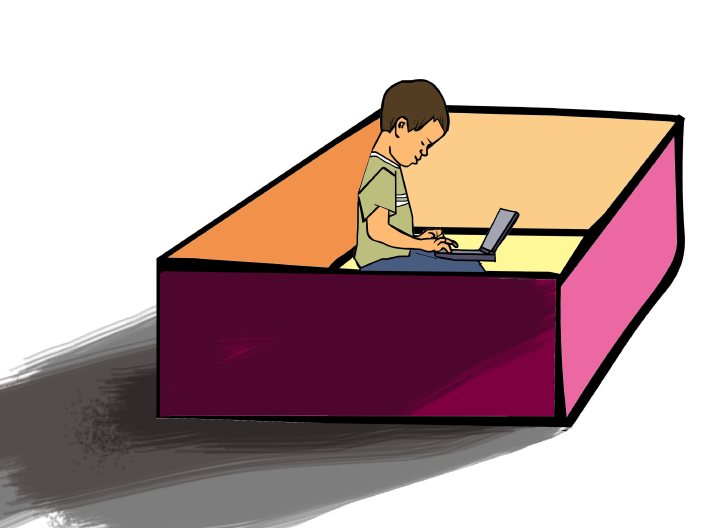 (LI SHIGONG)
In March 1978, 21 teenagers between the ages of 11 and 16 were enrolled in the Special Class for the Gifted Young of the University of Science and Technology of China (USTC), becoming the first such students of their kind. Four decades have passed since the program was first launched at USTC, which has since been expanded into the School of the Gifted Young. What has become of these once prodigious alumni, and how much of an effect has their expedited education had on their academic careers?
There is no lack of accomplished scientists, business people and scholars among the 1978 class's graduates, including
Ya-Qin Zhang, who became chief scientist at Microsoft Research China at the age of 34, and Melissa Ma (Ma Dongmin), cofounder of Chinese language search engine Baidu.
However, it is also known that some students have been asked to leave the school over the past few years for a variety of reasons including falling behind, being unable to take care of themselves and behaving unacceptably.
The 1978 class serves as a good example. Many of the alumni from that group now say that if they could go back, they would choose not to attend the class. However, there are many who have never spoken to the media, and who went on to achieve a lot in their careers, with some even rising to top of their respective industries.
The reasons for the problems that occurred at the School of the Gifted Young of USTC are manifold, with education experts and some students themselves believing that cases of failure are attributable to tremendous external pressures such as incessant media coverage and the high expectations of families and the public. Some students lament that they were unable to adapt to the difficulty of the courses, and believe they were ultimately not as academically capable as originally supposed. The social pressures brought about by labeling children as prodigies or so-called child geniuses are likely to cause various psychological problems. They may be good at studying, but emotionally and psychologically they are still children. This does not change just because they are admitted to college.
Mixed results
Wang Yang (News.qq.com): First of all, one thing should be made clear. The purpose of college education is not necessarily to turn students into billionaires or leading academics, with each student following a different path in life. Besides, some researches show that people's genius is inherently unstable, and so when gifted children grow up into so-called ordinary adults, neither the individuals themselves nor their schools should be blamed. The biggest problem with a school is not its failure to cultivate any Nobel Prize winners, but its ruining of young talented people. Virtually every year sees some students drop out of the school.
However, the School of the Gifted Young of USTC does have some achievements to its name. Statistics show that 85 percent of its graduates have gone on to be recruited by graduate schools in domestic and overseas universities, 300 of them have obtained doctoral degrees, nearly 100 have become professors or research fellows, and a majority of them have taken important positions in innovation-based technology companies.
However, China's genius programs are made possible through the concentration of resources on a specific group, which actually exacerbates the unbalanced development of education in the country. As a result, society is investing in them directly or indirectly, and so their future performance inevitably becomes the concern of society.
The USTC school enrolls only 50 freshmen each year, but the university sends a lot of faculty members to investigate and assess students in their local schools, with the best teachers then allocated to teach them, all at considerable expense.
Society tends to have high expectations for these children to make significant contributions to mankind. Once they fail to meet these expectations they are criticized, even if they are successful by normal parameters in their education and career.
A flawed path
Xiong Bingqi (The Beijing News): As higher education becomes common in China—this year's college graduates will number some 8 million—it is reasonable to suggest that special college programs for gifted young people should come to an end.
Indeed, as all schools in China operate in almost the same way, we have to admit that those programs do offer a special opportunity for certain students, but their detrimental impact on basic education should not be ignored.
Families, instead of choosing a suitable path for their children according to their personality, ability or preference, send them to specific training classes to help them acquire certain talents.
And as colleges and universities recruit students based on their examination scores, both schools and parents focus singularly on children's academic performance rather than their well roundedness as individuals.
Some of the children selected for the School of the Gifted Young of USTC are exceptional when judged in the context of the contemporary Chinese education system, but they are lacking in other abilities and skills. Some of them have personality issues as well as problems with physical and mental health, which may later affect their education and career. This is the exact reason why some universities have canceled their programs for gifted youth. The traditional Chinese concept of "making achievements as young as possible" leads to children being overburdened in primary and middle schools, and they arrive at university without any motivation left to complete another four years of study.
At present, primary and middle school education in many places does not pay enough attention to the individual interests and talent of students, so it is still in some ways necessary to train gifted children in special programs.
Nevertheless, in the long run, the cultivation of children's interests and talent must be integrated into basic education—it is not about setting up a unique system for a small fraction of children, but about caring for every student's personal needs, which is a major problem to be addressed in China's current elementary education reform.
Education authorities have announced that the enrollment of so-called gifted students with special talent will be ended in primary and middle schools by 2020. This policy does not mean to turn a blind eye to promising young students, but to discourage the public from its obsession with "special talent." Experience of the early cultivation of gifted children and their development later in life has provided adequate assessment of this kind of education and revealed the problems there within. A desirable education focuses on how well, rather than how fast, students grow up.
Yuan Lanfeng (Guancha.cn): In most aspects of life, intelligence is a threshold that caps many people's aspirations, but this is not so for young geniuses. Yet, once they have surmounted this initial barrier, their achievements in the following years depend on many other factors, such as willpower, interpersonal ability, and even luck.
What education must do is to help these child prodigies to find fields suited to their interests and abilities, and encourage them to make use of their knowledge to help others and the world. It is not sensible to either exalt or deride them.
Wang Guicheng (Sohu.com): The special education of so-called geniuses was the wrong path to take from the very beginning. Child prodigies are innately talented, but a good start does not necessarily lead to good results, and these children may not be successful later in life. Research shows that it is hard to decisively confirm the factors that affect a person's development, because there are simply too many variables. IQ (intelligence quotient) is just one of many factors, and is not inextricably linked to success.
Education of the kind at the School of the Gifted Young of USTC may even harm children's development rather than do it good. Fueled by hype in the media, these children often become famous early in their lives and are the recipients of widespread praise. However, they are too young and not mentally mature enough to comprehend and properly understand the circumstances of this praise. Instead of pushing them forward, these plaudits can impede the normal development of their personalities.
In many cases, building children up so high at such an early stage in their lives simply sets them up for failure and gives them further to fall. The current attitude toward gifted young children overemphasizes IQ and neglects many of the basic skills of life. Poor personal skills later prevent them from becoming the elites that the public expects them to be.
Ren Mengshan (The Beijing News): In China, quite a number of people believe that academic performance is more important than everything else in life, and so some parents are happy to manage everything so long as their children do well in school.
If children are regarded as humans, then no matter how young they are, they must have their own thoughts. By engaging with the real world and interacting with society around them, children can gradually become independent and develop a basic understanding of the life. Education is not merely about reading books, but also about real life and common sense. Living in a small closed-off world monitored by their parents will prevent children from successfully adapting to real life and from learning to take care of themselves when they grow up.
Independence is something that children must possess. Schooling should not be the only thing in a child's life, and one day they will have to face other matters as well. Regardless what kind of people they become, they must be able to lead an independent life.
Copyedited by Laurence Coulton
Comments to yanwei@bjreview.com