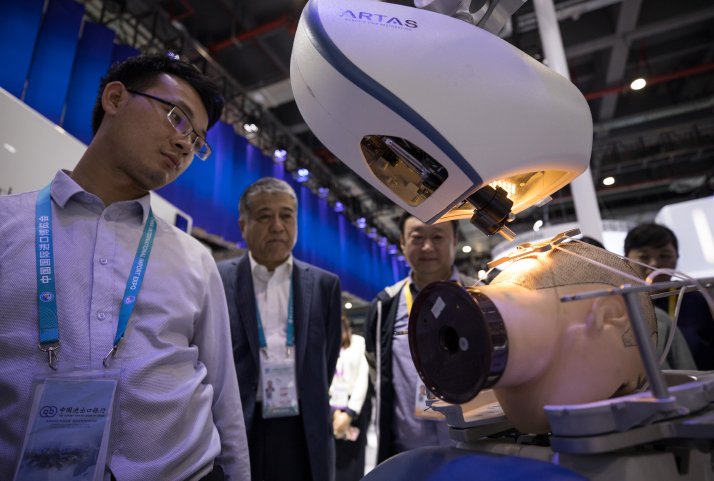 A robot that can perform hair implant surgery is on display at the Second China International Import Expo in Shanghai on November 7, 2019 (XINHUA)
For Dong Xincheng, a young programmer in Beijing, the desire to find a girlfriend is all tied up with his hair, which he is losing at an alarming rate.
"Judging from my appearance, few would believe that I am only 28," Dong told Beijing Review. "Most people say I look at least 35." The reason, Dong assumes, is largely due to his partial balding. The hairline on both sides of his forehead is receding, forming an M shape, which is usually seen on people over 40.
Dong noticed he was losing his hair as a senior in college. "Every day, when I woke up, I would find many strands of hair on my pillow," he said. Things got worse after graduation. As an employee at a game developing company, it is normal to leave the office after 9 p.m. and sometimes he even stays until midnight. Working long hours is common in the industry.
Bald before their time
Dong has concluded that the three major reasons for his hair loss are stress, lack of sleep and unhealthy eating habits. And he's not alone.
Beijing-based Tsinghua University conducted a survey in 2017, polling about 4,000 students, which showed that 60 percent of them reported thinning hair, and 40 percent said they noticed receding hairlines. Stress, insomnia and irregular living patterns were cited as major causes for the balding trend in young people.
In another survey conducted in May 2019 of 300 Chinese people born after 1990, 54 percent said they were experiencing hair loss.
"Getting bald before you're old is a big worry for us," said Liu Qiong, a 25-year-old woman working in a public relations firm in Beijing. She noticed her hairline starting to slightly recede several months ago. "It really worried me a lot. We would always joke about going bald, but when I started to see the signs of it, I couldn't accept it."
Liu doesn't dare to wear her hair in a ponytail anymore and has started to spend money on anti-hair loss products. She buys black sesame food products, which are believed to be helpful in growing hair, and anti-hair loss shampoos even though she doubts they really work.
"It's a Catch-22," Liu said. "We have hair loss mostly due to anxiety, and to relieve the situation, we have to be less anxious. But hair loss only adds to our anxiety."
Wang Xiaomi, a 26-year-old coworker of Liu's, has no signs of hair loss yet, but is very nervous about the possibility. "I go on blind dates sometimes and find more men my age are trying to cover up their hair loss by wearing hats or styling their hair in a way that hides it," Wang said. "If you ask me whether I can accept a man in his 20s going partially bald, I can't say I really know."
Dong admitted that his hair loss makes him feel insecure about his marriage prospects. "I can work hard to earn more money and get better jobs, but I'm not sure how to make my hair grow back," he said.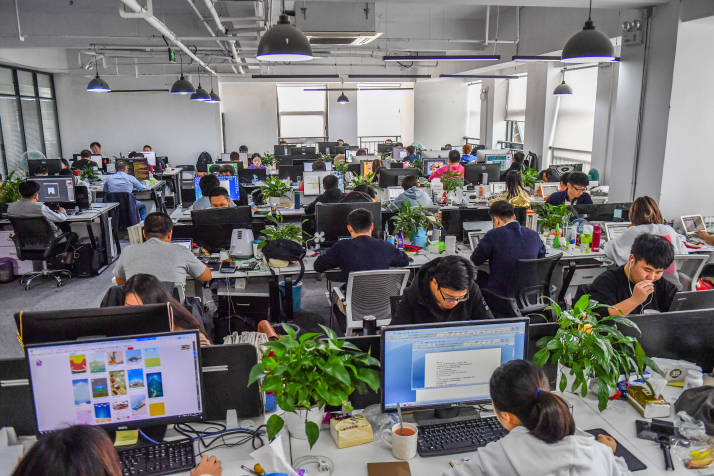 Staff members work at an Internet company in Hangzhou, Zhejiang Province in east China, on October 31, 2018 (WEI YAO)
The hair business
In February 2019, the cosmetics evaluation center of West China Hospital in Sichuan Province asked on its WeChat account for volunteers troubled by hair loss to take part in an experimental program for a hair-growth product. The post quickly went viral online.
Within a day, it had been read 62 million times. In the end, more than 20,000 people registered for the program, even though the center asked for only 30 volunteers.
Shu Xiaohong, a staff member with the hospital, said many of those who registered were quite young.
This situation has given a nudge to the anti-hair loss market. In 2017, Alihealth and Alidata, two affiliate platforms of China's e-commerce giant Alibaba, released a report showing that among the consumers of anti-hair loss and hair-growth products, those born after 1990 accounted for 36.1 percent.
This percentage has only grown in the past two years. During the annual online shopping festival on November 11, 2019, among hairpiece buyers, 42.41 percent were from the post-1990 generation, which has become the largest consumer group for these products, according to data from Tmall, Alibaba's e-commerce platform. These 20-somethings have become the generation most worried about hair loss.
Data from market consultancy iiMedia Research showed that in 2018, the market value of anti-hair loss shampoos was 1.13 billion yuan ($163 million), up 15.3 percent year on year. It is estimated that the market will surpass 1.5 billion yuan ($217 million) by 2020, with the young generation expected to be the main consumption force. Thus, companies are adjusting their marketing strategies to target younger consumers.
Bawang Group, which uses traditional Chinese herbs in its anti-hair loss shampoo brand, teamed up with game companies to launch crossover-brand products. In 2018, it changed its endorser from Jackie Chan to Mao Buyi, a popular singer among the post-1990 generation, to create a younger image.
Starting in 2019, the company also held activities in universities, collecting creative ideas from students for its ad campaigns. Compared to previous generations, young consumers today are more willing to spend more on reversing hair loss, according to CBNData.
Hair implant surgery, which normally costs over 30,000 yuan ($4,350), has also been gaining popularity in recent years. Two major leading brands, Yonghe Hair Implant Group and Lotus, have received more investments, enabling them to expand their business map in China.
Zhang Yu, President of Yonghe, said in 2018, the company performed 38,000 surgeries in China, about 20 times that of 2013, and the clients were looking younger. "Young people today care more about their appearance," Zhang said. "Thick hair can make them look younger, while lower hairlines can make their faces look smaller."
Liu Zheng, CEO of Lotus, is optimistic about market prospects, especially since most of the company's clients are between 20 and 35 years old.
"Industry insiders believe within five to 10 years, the market size of the hair implant industry in China will be 50 billion ($7.2 billion) to 100 billion yuan ($14.5 billion)," Liu Zheng said.
Copyedited by Rebeca Toledo
Comments to yuanyuan@bjreview.com